The Milwaukee Journal Sentinel, Nov 6, 1999 
Jerry Blake, whose big-band sounds set Milwaukeeans' feet to dancing for decades, has died in Las Vegas at age 80.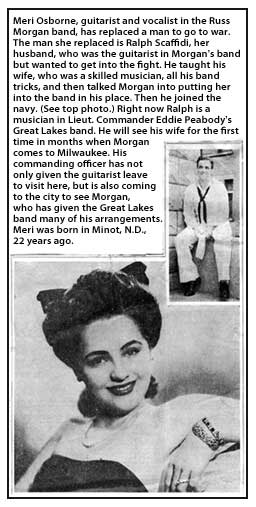 Blake was leader of the house band at George Devine's Million Dollar Ballroom at the Eagles Club from 1950 to '68.
He arranged a quantity of music for Wayne King and, to a lesser extent, for Lawrence Welk.
Though the Jerry Blake Band made appearances in Chicago and New York, his big-band and swing music was heard mostly in Milwaukee and at convention and resort areas, such as Lake Geneva. He once had as many as seven bands appearing simultaneously around the area.
At the Eagles Club, his band backed up Frank Sinatra Jr., Tony Bennett, Myron Floren, Fabian and other musicians.
Blake was born Marvin W. Voigt and used that name onstage until Devine urged him to adopt a name with more show-biz pizzazz. Voigt talked it over with his family and chose the surname of a British poet he admired, William Blake. Why he picked Jerry as his first name has been lost in time.
As the musical director at the ballroom, Blake often brought celebrity bandleaders home for supper after the weekend shows, according to his son, Richard Voigt. On Friday, Voigt said he recalled seeing Guy Lombardo, Benny Goodman, Harry James, Wayne King, Sammy Kaye, Lawrence Welk and Crazy Guggenheim in early mornings at the family home. Voigt could not remember why Guggenheim was there, but he did recollect that the comedian put away more steaks than anyone else.
Blake's band also opened for Duke Ellington, Count Basie and Artie Shaw.
When the ballroom closed in 1968, Blake contracted to play events and parties at Allen-Bradley, First Wisconsin and other corporations and continued sending his bands to weddings, school proms, country clubs and private parties. Blake appeared at Summerfest, in concerts at the Civic Center Plaza, at charity balls and at Gov. Warren Knowles' inaugural ball. He played for Milwaukee Public Schools recreational programs and at Green Bay Packers games in County Stadium and backed up Irish tenor Dennis Day at the Washington Park band shell.
Blake was booked into the Marc Plaza's Empire Room and the Wisconsin Roof Garden, popularly known as the Roof. Until the Roof on the seventh floor of 536 W. Wisconsin Ave. was converted into office space in 1958, it had the reputation as one of the most romantic spots in Milwaukee. A promenade off the dance floor included a balcony, called Moonlight View, overlooking the city. It was said that many a sailor saw the beginnings of a romance there.
By 1980, Blake was tired of Wisconsin winters and ready to retire. He and his wife, Elizabeth, had been visiting Las Vegas more than a half-dozen times a year and were drawn to the first-class musical talent the city attracted.
They moved to Las Vegas, and within a couple of years, Blake was appearing once or twice a week at Arizona Charlie's hotel and casino. Using some of the musicians he had worked with before, many of whom had also retired to Las Vegas, he led an orchestra for more than 15 years at Arizona Charlie's and occasionally at the Santa Fe hotel and casino. He gave his farewell performance at Arizona Charlie's last New Year's Eve.
In both Wisconsin and Nevada, the license plate on his auto read "Maestro."
Blake was born July 16, 1919, in Milwaukee to Elsworth and Viola Voigt and trained as a classical pianist. As a freshman or sophomore at North Division High School, he was doing all the arranging for the school band and was asked to take over conducting the band, Richard Voigt said. He also organized his own band to play at parties.
Drafted into the Army in 1941, he was leading a band at a base in Asheville, N.C., when he received his assignment for overseas duty. However, his commanding officer wanted him to entertain the troops at home. So Blake spent World War II rehearsing his band, arranging music and playing for a weekly radio show and at dances on and around the base.
At war's end, the commanding officer allowed Blake to take all his arrangements home with him. Within a week of returning to Milwaukee, he had a band organized and three show dates lined up.
With a 12-piece band, Blake played at the Eagles most Friday, Saturday and Sunday nights year-round. Sometimes, to the delight of thousands, he led his band onto the dance floor to do the hokey pokey with the crowd.
Three times Blake's band was named best dance band by the National Ballroom Operators of America. The first time, Lombardo himself presented the prize.