The History of the Astor Theater
Original Photo-Play Theater Format Predated Movies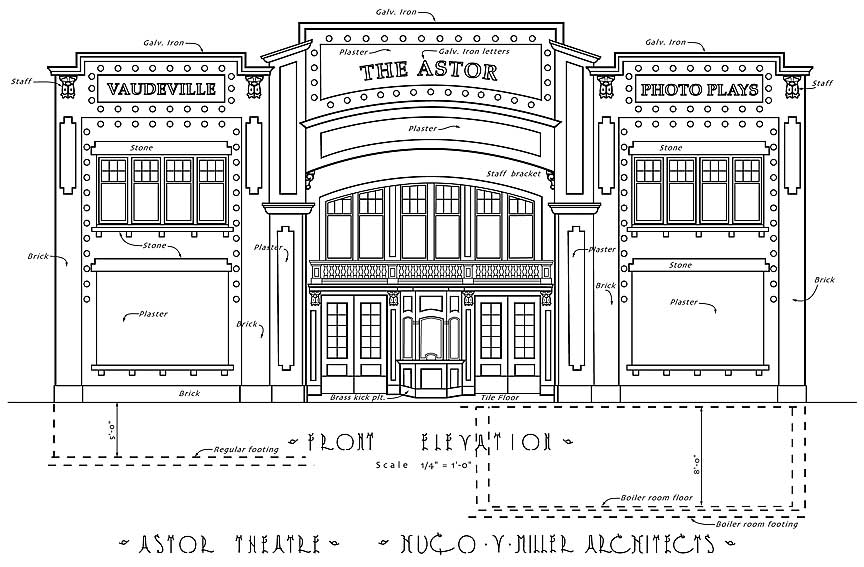 There are a number of theaters in the world named Astor, but whether they all hearken to the namesake of John Jacob Astor, as does the one in Milwaukee, is unknown. It is known that this neighborhood Vaudeville and "photo-play" theater was named for the side street on which it is fronted, and that the street itself was named in 1835 after the famous international furrier of the 19th century.
The Astor Theater opened its doors the night of Saturday, January 30, 1915, with a showing of "The Pit in Five Acts" plus a Keystone comedy, both silent movies, and likely some live, small stage performances. The opening was featured in the newspaper Evening Wisconsin, which emphasized the theater's good ventilation and that it even had a ladies room! Tickets were ten cents. Children paid just five cents. "Stop to see a Charlie Chan, Tom Mix or a Blondie movie." This was a true neighborhood theater, with live Vaudeville acts and silent movies, called "photo plays."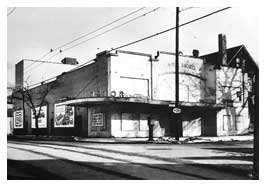 When local architect Hugo V. Miller was asked in 1910 to devise a theater for the Astor Street site (the only theater he ever did), he did not envision a movie palace, because that format would not occur for many years in Milwaukee. But he did make a progressive arrangement of the "photo-play parlor" of some 950 seats in a single-level auditorium, of a typical box-beams-and-pilasters décor. He arranged for better ventilation than that found in many smaller theaters of the era (air conditioning was still far in the future). A relatively large stage allowed for greater neighborhood Vaudeville acts than did other venues. Miller designed a substantial building of brown brick, but also appreciated the need for a handsome façade to lure the nighttime crowds, and so studded the three bays of the front with staff ornaments and light bulbs including the parapet featuring a center panel reading THE ASTOR, flanked by panels reading VAUDEVILLE and PHOTO-PLAYS. The lot was deep enough to allow Miller to recess the island box office from the sidewalk line, into a tiled vestibule, the ceiling of which was blanketed in incandescent bulbs to give the entry a welcoming glow. The final cost of the building was $50,000, a fortune at that time.
Theaters Were a Vital Part of Neighborhood Life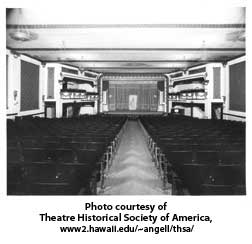 Sally grew up on Lyon and Jackson until her parents opened a grocery store at the corner of Astor and Land Place. She started working at the Astor Theater selling popcorn. She did a great job and was promoted to the ticket office. She also worked at the Jackson Theater and the Ogden Theater. Both of those theaters eventually were torn down to make room for a freeway that was never completed.
Another former resident of the neighborhood told Jim Searles that she used to dance at the Astor Theater as a young girl: "Don't ask my age!" Phyllis said that sometimes, they would stop the picture just as Tom Mix was jumping off a cliff. The lights would come on. Around went the ushers to take up a collection for the Red Cross. "Of course, we, as kids, did not have much money. We were lucky to get eleven cents to go to the movies." Double-feature shows were a real treat. After a first run downtown, one of the next stops was the Astor. At the theater, the game of kids versus ushers never ended. Joe, a friend of Phyllis, bought a ticket and ran back to the fire door. In bolted his buddies. Quick, hide under a coat – the usher is after us! Phyllis once went to the front ticket window and told the ticket-taker that she had to go inside to look for her little brother, who was very sick. Amazing – she sat through TWO entire shows and never found her little brother!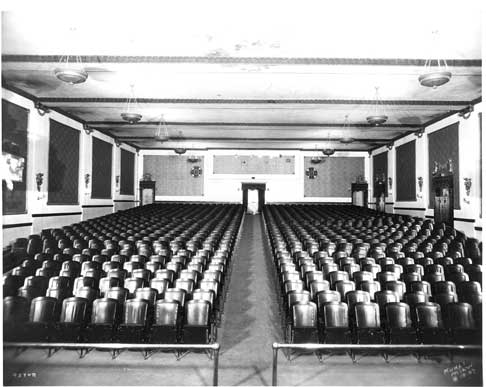 In the theater's heyday, it had an "A" and a "B" movie, a news reel and cartoons. In the very beginning, three to five live acts of Vaudeville were intermixed with the films, which weren't of the best quality. The Vaudeville acts were bigger draws than the movies. But by the 1920s, that changed, with audiences demanding more realism in films.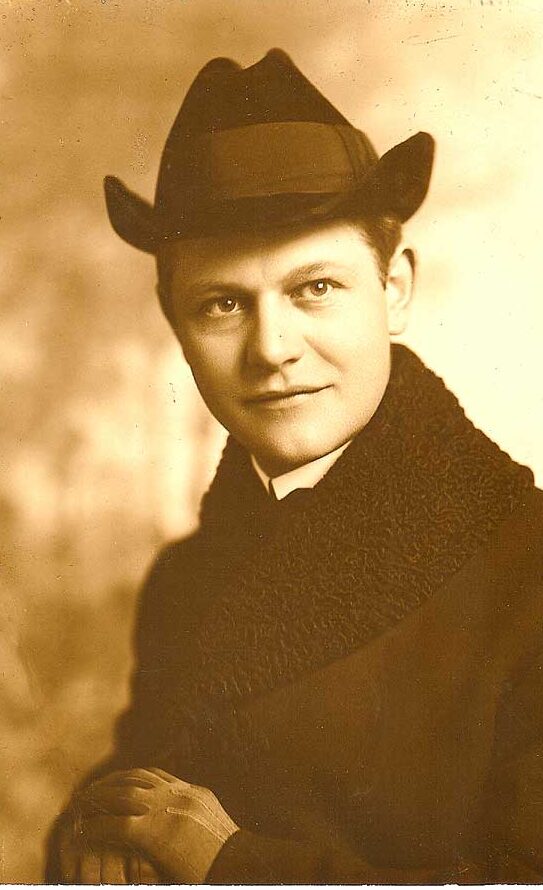 Some nights, the stub of a lucky theater-goer was drawn and a bag of groceries awarded to the winner. Other nights were "dish nights," when everyone in attendance got a dish. If you didn't bring the dish home, you really heard it from Mom. If a dish was dropped and broke on the floor during a movie, everyone applauded. These Depression-era dishes now are quite valuable and prized by collectors.
From Live Performances to Films to Film Renter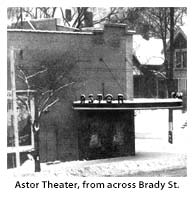 John Radke was the original owner of the Astor Theater. He later sold out to Jack Silliman's Milwaukee Theatre Circuit. In 1927, Silliman had double-level box seats added to the splays flanking the stage at the Astor, and put damask panels between the pilasters of the auditorium. A portal drapery set was placed on the stage and light bulbs within plaster rosettes now graced the intrados of the proscenium arch. There was no practical way to turn the space designed primarily for live theater into a movie palace, but the Milwaukee Theatre Circuit did what it could to freshen the old show house into a suitable environment for showing films.
Times changed. Old was out. The decade of the 1930s saw the end of Vaudeville. Live acts, with costumes and live orchestras, had become too expensive. Come 1939, new Astor owner Harry Perlewitz had local architect Myles Belongia completely redo the Astor façade into an Art Deco-Streamlined style so popular at that time. On the first story he placed horizontal bands of architectural porcelain steel panels divided horizontally by stainless steel strips, this echoing the new canopy without attraction boards that wrapped completely around the building from its Astor St. facade to its side facade on the arterial of Brady St. It was still the Astor, as the skeleton neon letters on the outward curve of the corner of the canopy made clear, but it was an entirely new look. Just what changes were made to the interior are not known, but no doubt they included a new, much larger screen with removal of all the old Vaudeville appointments, and new, better projection equipment, with no more band in the "orchestra" pit, since by then all films were in sound, unlike the silent films with which the place opened.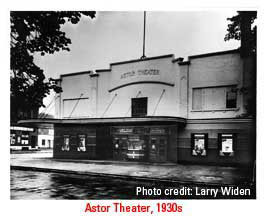 In the middle of the 20th century, neighborhood theaters everywhere met their demise due to a strange box popping up in living rooms throughout the country, captivating the masses. The Astor struggled along with many others after the advent of TV in the 1940s and consequent loss of audience, until 1952, when the Astor Theater showed its last movie. The building then sat idle for a few years, when it was transformed into Roa's Films, a renter and producer of 16mm films to schools, institutions and some citizens. This ironic transformation from a shower of film to a renter of them resulted in the gutting of the theater, and the installation of a second floor, which contained residences for Frank Birch and his wife, Roa, the proprietors. They made only minor alterations to the exterior, such as replacing the name of the theater with their name in the same Art Deco-type neon letters, and adding new windows for the upstairs apartments. The company prospered and in 1959, began producing its own filmstrips for distribution in the Catholic religious education market. Roa's Films' first production was "The Good News of Christ."
In 1963, Roa's Films purchased the lot to the south of the building and built an addition to allow for more storage. The Milwaukee Journal company bought Roa's Films in 1970 and soon moved the operation away from Astor Street. In 1979, the building hit hard times and was boarded up. Brady Street, too, had hit hard times.
Hard Work Brings New Life to a Classic
In 1983, Jim and Barb Searles found themselves looking for a new location for their pharmacy and coffee shop. The business had been housed for many years in the Knickerbocker Hotel, at 1028 E. Juneau. Jim and Barb stood up for the many elderly residents of the Knickerbocker when it was bought by Oliver Plunkett. Plunkett wanted to evict the renters and turn the building into condos. When the skirmish started, plenty of folks told Jim he was crazy. Plunkett had money and influence. One of Plunkett's general partners was Bob Kasten. But Jim and Barb persisted. They made their point, but by then Plunkett had swindled millions and Jim and Barb had lost their lease. They looked in the same general neighborhood for a suitable spot to relocate their business. They found the boarded-up ROA Films building. The windows were smashed. The frames rotten. The roof leaked. The wiring was shot, AC rusted out and the plumbing useless. But, it was a place to move to.
Three different banks turned them down for a loan. At the Bank of Commerce, they were told: "You don't understand. It's over. Brady Street is finished." At the fourth bank where Jim and Barb asked for help, the answer – finally – was "yes." Jim recalls: "We were drowning. We got the loan not because we were smart, not because we deserved the loan, but because good friends called the bank and said they wanted it to happen. They felt that if Barb and I couldn't help turn Brady Street around, nobody could." So, in 1983, the Astor Theater became the Brady Street Pharmacy, joined nearly 20 years later by the Astor Street Performing Arts Center.
This is where the building stands in 2007. Will the Astor Theater ever be restored? Watch for the next installment!
Grateful credit is given to Jim Rankin. The article that he wrote for me impacted & influenced this article.
---
Astor Theater Memories
by Josephine P. (DiSalvo) Scheid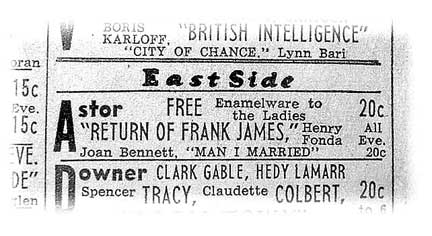 When I was a kid the Astor Theater was a big part of our entertainment. At that time, going to the movie was a big thing. You got to see a B movie and an A movie. The B movie was always shown first. It consisted of unknown actors and a nondescript story line. The A movie had well known actors and wonderful stories. There also were many musicals shown at the time. The Shirley Temple movies come to mind.
One night a week they had what is called dish night. Each week you would receive a cup, a saucer a dish etc. Of course you would try to go back each week so you could complete each set of dishes.
Matinee movies were shown on Saturday and Sunday. In addition to the movie you would see a serial story. Buck Rogers was one such story They were all "Cliff Hangers". He would always be left in a position were death was imminent. You had to go back the next week to see how he escaped that tragic fate. Money was scarce at that time so we would do anything to be able to see his next escape. Cashing in refund bottles was one way. Doing extra "chores" for people was another.
Another night of the week was called "Amateur Night" They were always enjoyable, because many of the contestants were from the neighborhood. The winner would receive either a prize or money and would come back to compete again.
---
Architect's Blueprints of Astor Theater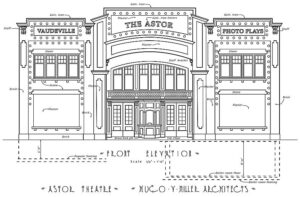 ---
A Pioneering Projectionist
by Amy Rabideau Silvers
The Milwaukee Journal Sentinel, Mar 9, 2006
Even as women moved into factory jobs during World War II, it was still news when someone found a job where no woman had gone before.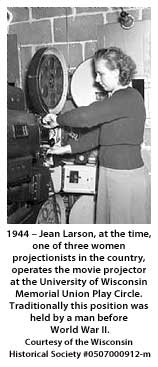 In 1943, Jean Larson made headlines as the first woman projectionist in the Play Circle movie house at the University of Wisconsin Student Union in Madison.
"Invader of a man's field, Jean M. Larson, 19 year old University of Wisconsin sophomore, operates the movie projection machine," read a caption under a photograph of Larson at work. "Theater managers doubt whether there are more than two other women projectionists in the country."
Working with film became her life's work.
"I've been in this AV business since the beginning," Larson said years later. "During World War II, when they started taking the fellas to war, I worked backstage at the theater. I learned to run a 35mm projector. That was such an unusual thing for a woman to do."
Larson died of natural causes March 3 in hospice care. She was 82 and a longtime resident at an Astor Hotel apartment. Larson had lived with multiple sclerosis for more than 30 years.
Her love of film began early, as might be expected, in the dark of the local movie theater when she was a child in Plymouth.
As a speech and drama major at the University of Wisconsin, she began helping backstage at theatrical performances at the Union. The theater manager, tired of losing his projectionists to the military, suggested that Larson take the three-month training course.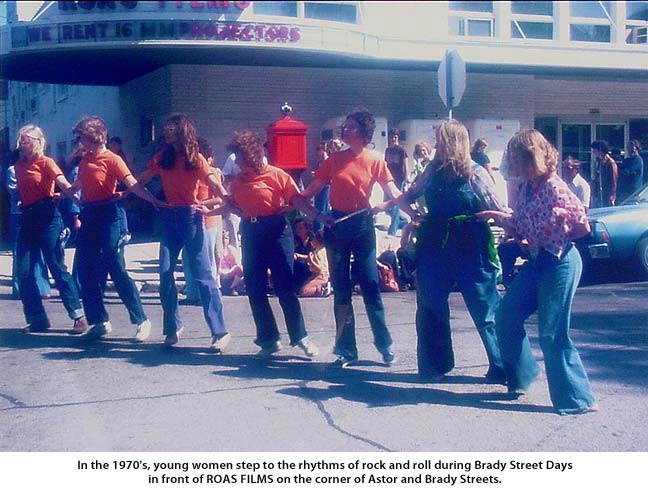 After graduation, she went to New York City, working for an airline in reservations and dispatching. But that, too, was considered a man's field, and she returned to Milwaukee.
Larson got a job with Photoart Visual Services, a camera shop and film rental library owned by a woman named Roa Birch. By 1953, Birch decided to concentrate on film rentals, making Larson vice president for Roas Films.
"It's like Roa used to say, I guess I have film in the blood," she later said of her old boss.
The business became one of the largest film rental companies in the nation and specialized in mail-order rentals.
In 1970, the Journal Company purchased Roas Films, then the first division in an educational subsidiary. Roas Films was sold in 1986, and Larson decided to retire.
---
The Brady Street Pharmacy and Coffee Shop, 1983-2009
A Collection of Snippets From The Era
These were the 'Good 'ol Days" they say… and for a number of people in Milwaukee, the Brady Street Pharmacy and Coffee Shop was the setting that created some of those days along with the memories that came with that era. Here are a few snippets from those coffee shop times when regular customers would come in for their daily lunch or coffee, meeting up with their friends in this affable restaurant setting with friendly waitresses acknowledging their presence. There was an eclectic group that hung out at the coffee shop.
Here are a few: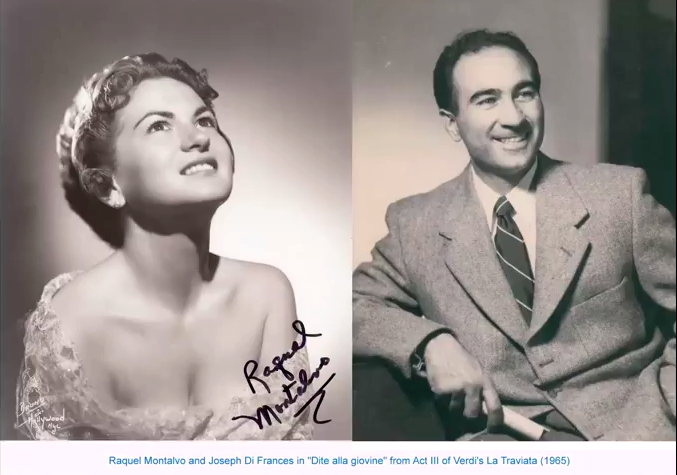 Joe Di Frances hung out in the coffee shop at the pharmacy. As a young man he had lead roles (tenor) at the Metropolitan Opera in New York. I spotted him having breakfast. Opportunity. I walked over. He was holding up a newspaper that he was reading. "Sing something for me". Back came the reply "go away". But you sang lead roles at the Met. With that a very pretty young lady sitting one table over joined in. "I know the Met. You never sang there". Down snapped the newspaper. He turned to her. "Give me your hands". With that he softly started to sing her a love song in Italian. By the end his voice was at a level that could fill a mega-sized theater with no amplification. That brought a round of applause. And the girl, well her face was a bit flushed. With that the newspaper went back up. From behind it came a voice "now will you leave me alone"? (Listen to "Dite alla giovine" from La Traviata sang by Joe Di Frances and Raquel Montalvo, 1965)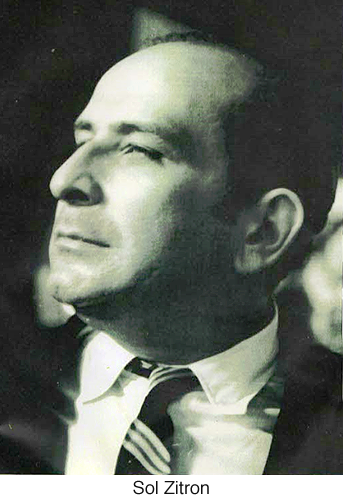 Sol Zitron, a cantor at Congregation Beth Israel Ner Tamid synagogue and graduate of Juilliard School of Music, had a lead role in Madame Butterfly at the Performing Arts Center. While hanging out at the pharmacy, every now and then he would get into role and burst out into part of a song. Sol got paid 375 dollars a week not to show up for work at his family's packing plant, Milwaukee Dressed Beef. One morning Sol had breakfast at the Hotel Pharmacy's coffee shop, then headed over to the Jewish Center to work out on the racquetball court. A little later there was a call from the center. Sol had collapsed of a massive heart attack at 10 am. Milwaukee was stunned.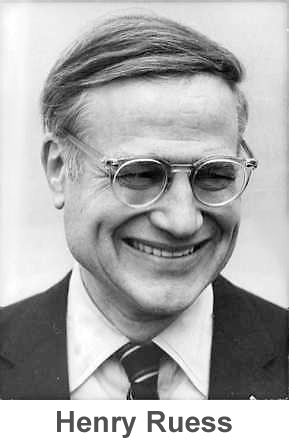 Henry Reuss (Chair of the Banking Commission) was a regular hanging out in the coffee shop. One day Henry was eating his breakfast when Harout Sanasarian a County Supervisor stopped by and pestered him for a stock tip. Henry said buy oatmeal. Harout did not get it. "Why oatmeal?" asked Harout. Henry replied "because if it goes up you can sell it and it goes down you can eat it" With that he went back to eating his oatmeal for breakfast.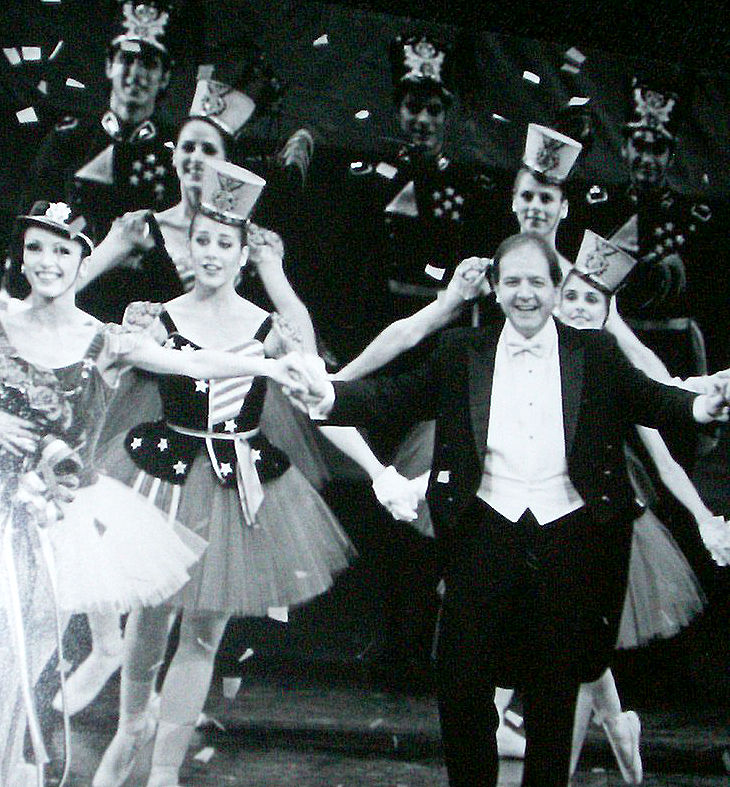 Dan Forlano was the conductor and director for the Milwaukee Ballet. Living at 1111 N. Astor, he hung out at the coffee shop in the pharmacy. Dan conducted without a score. He could tell where every dancer should be at any given time in a ballet. The Milwaukee Ballet merged with the Philadelphia Ballet. The merger only lasted a short time leaving the Milwaukee Ballet 445 thousand dollars in debt. Every one thought it was finished. Dan raised the money over a one year period as his heart failed. In a rehearsal that was quite difficult, Dan collapsed into the Concert Masters arms—home to God. They held a requiem at the PAC to honor Dan. It was packed.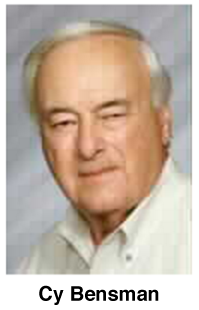 Cy Bensman hung out in the coffee shop in the Hotel Pharmacy on Juneau. I think that Cy had been divorced about 4 times. I told him that he needed a less expensive hobby. The funeral service for Sol Zitron was held at the Goodman-Bensman Funeral Home on Santa Monica Blvd. I was there a bit early. More and more and then still more people kept coming in. I helped to get lots more chairs out. Finally the mega-sized room was jam packed. I found out later that the funeral home was stunned at the number of people who showed up.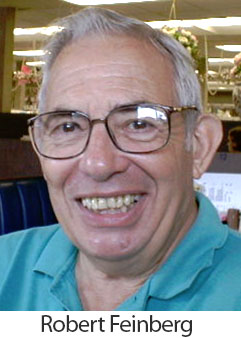 Robert Feinberg was a regular at the coffee shop sitting in with friends that he often joined for coffee and conversation. As a young man he served his country as a paratrooper. In the early 1960s he did bar-tending work while training to be a stockbroker which he went on to become and continued to be for 35 years. Robert passed away April 11, 2016, at the age of 87.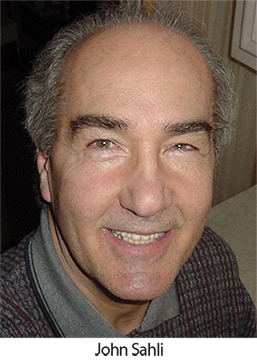 John Sahli was a regular at the Pharmacy Coffee Shop when it was located in the Knickerbocker Hotel, and was one of many who followed Jim and Barb Searles to the Brady St. Pharmacy. After a long day as a graphic designer, John would arrive about 5:30 almost every evening to relax and enjoy dinner with his friends. He would loosen his tie, light his pipe and join in on the solving of the Green Sheet's "Trivia Quiz" which was read aloud by John Angelos. Tuesday was Knachtwurst and Beans night. Jim usually saved one for John as it was his favorite. Another favorite was Pasta with garlic, oil, tomatoes, mushrooms and onions. It was always fun to talk to John about the 60's and early 70's when he played guitar in the rock band known as "The Shags" which had he and three others had formed. He was also a co-founder of Milwaukee's underground newspaper "Kaleidoscope." Lot's of stories there.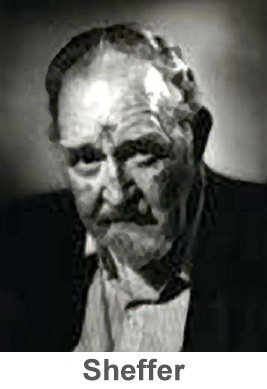 Walter Sheffer, as Milwaukee's main society photographer, was able to establish his own "look" and very successful portrait studio by 1953. He also taught advanced portraiture at the Layton School of Art from 1952 to 1970. What made his photos so incredible were his dark room techniques that still cannot be duplicated. The Milwaukee Art Museum has a small number of his prints. Marquette university has 75 shots that he took of theater productions. The rest are in a private collection.
Walter had 31 one-man shows tour the country. In his later years, his life finally blew apart, ending up destitute—living at River Hills East Nursing Home on Prospect Ave. One of his former students, Sue Bartfield, recognized Walter when she happened to be at the home. She got him going again. Walter shot 35 incredible black and white shots of elderly residents at the nursing home. The opening for the show was at lobby of the Henry Reuss Building, 310 W. Wisconsin Ave. in Milwaukee—black tie requested. Walter was not sure if he was remembered. From across the lobby came a booming voice "Walter" as he came in the door. Walter had lots of friends in corporations who remembered him picking up all the expenses including limousines and fancy hotels. The show went on a national tour.
Aside: It was late New Year's Eve, 1972 and time to call it a night. My recollections are a bit hazy but I do remember sitting there warming up my Volkswagen bug, scraping the frost from the inside of the windshield, trying to tune the radio and hunching my shoulders against the cold.
Suddenly the passenger door swung open and a large figure leaned in and asked for a lift. "Sure", I said, "hop in". After some consternation and maneuvering he was finally seated. He was dressed in a tuxedo and a big overcoat making him look like a killer whale in a sardine can. Then It struck me… it was Walter Sheffer. "Thank you very much" he said as he gave one final pull on the handle to get the door closed. He gave me directions and I felt like I was going on a special assignment. I proceeded to drive off… carefully, listening to his accounts of the evening while trying to make his ride in a VW bug seem like something else. —John Sahli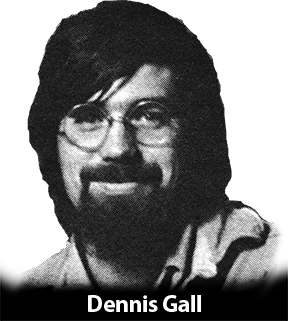 Dennis Gall was a regular in the pharmacy coffee shop, stopping in for a bite to eat and read the paper. Dennis had a colorful past that fit his colorful personality going back to poetry readings at the Avant Garde coffee house where he and his wife Donna would take part. In 1967 Milwaukee's underground newspaper Kaleidoscope came on the scene and Dennis joined in, becoming a prolific "hawker" of the newspaper. Dennis also wrote a column called "Jesus Christ – Funny Judge" in which he reported the happenings from the courtroom of Judge Christ Seraphim. Eventually Dennis bought the newspaper from then editor John Kois for $1. He continued on as Editor until the newspaper closed its doors in 1971. "He was dedicated to social justice," said Milwaukee County Court Commissioner Barry Slagle, a longtime friend and colleague. Gall spent a few years as a private detective, then returned to school. In 1986, at age 41, he graduated with honors from the University of Wisconsin-Madison School of Law. He started out as a prosecutor but spent most of his legal career in the state public defender's office. Dennis passed away April 24, 2016, at age 71.
Bob Watt was Milwaukee's weird splash of painter, poet, photographer and self-proclaimed Zen Master. Driving around Milwaukee in a car topped with fake fruit, flowers, dolls and anything else that met his fancy, created a sight of wonder. Were his photos devoid? Likely not in his mind. Though definitely amateurish by anyones standards, his images had a curious attraction. He liked to hand out "business" cards to young girls wanting them to pose nude. Even offered to pay up to $20 for them to model. He liked to wander into the Brady Street Pharmacy's coffee shop spreading the photos all over a large table. That of course drew people over. Waitress Karen would stomp over to talk to me, "that dirty old man is back at it again." Out the door he went only to be back weeks later with more photos.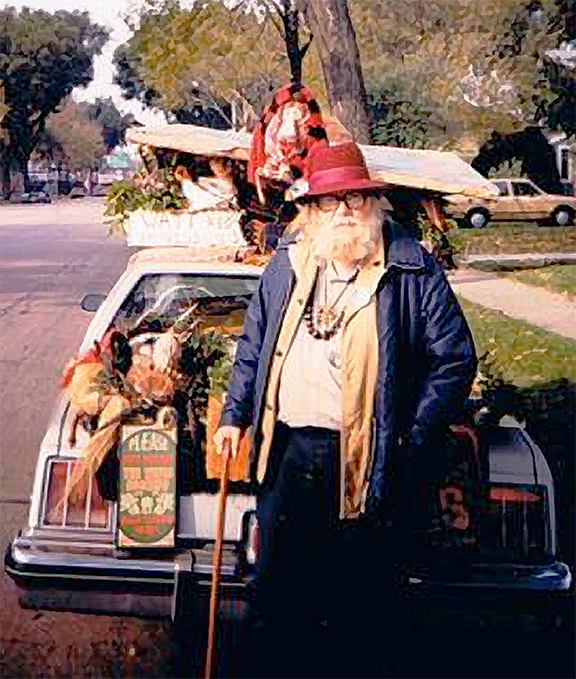 Then there was his poetry: "We need more ordinary Indians, some untalented people functioning. I feel I might be able to talk for the dull, the backward, the non-dandy, in short the bad poet." A fantastical imaginarium to the absurd.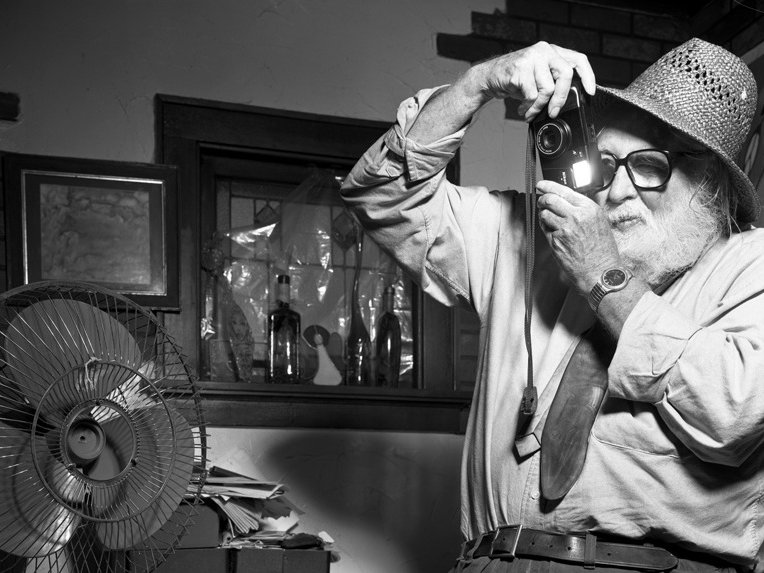 In a local night club, a girl got drunk and yelled,
"I'm a heavier Zen Master than Watt is!"
I consider this a good turn of events.
Why should I do all the enlightening?
Let others do some of the work.

—Heavier Zen Master, 1970
Bob Watt, a master of the absurd. Gone… and with him a bit of color, from a city too often gray.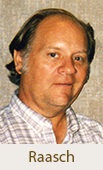 Robert "Bob" Raasch. From 1960, Bob worked in the communications business around the Milwaukee area for seven years installing and repairing commercial audio paging systems. He also did sound mixing for "Music Under The Stars" at Washington Park. In 1967 he visited Bob Schwarz in Las Vegas and ended up taking his job at United Recording Studios as Mr. Schwarz went on to New York City. Bob spent 10 years at URS and during this time he got involved with radio stations and a large film processing lab doing tech maintenance for them. He also spent time installing audio/visual systems for conventions in many of the hotels. Bob spent over 26 years in Las Vegas. During the summer months Bob would drive to Milwaukee to work as a union stage hand. During this time he again teamed up with Mr. Schwarz to do trade shows around the world for Westinghouse, showing off their elevators and escalators. (He said that London was his favorite city) While in Milwaukee, Sol Zitron introduced Bob to the the Knickerbocker Pharmacy & Coffee Shop where an off-beat crowd regularly gathered. Jim Searles ran the business and when Jim decided to relocate to Brady Street, Bob helped him make the move—and together they moved everything in one night. So the Brady Street Pharmacy & Coffee Shop, (as it came to be known) was Bob's new hangout when in Milwaukee. Bob is now retired and lives in Hollister, Missouri.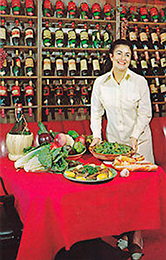 The Knickerbocker Hotel Pharmacy was located on one side of the Knickerbocker Hotel. Sally's was located on the other side. Actually it was better known as Sally's Steak House. Sally Papia dated big Frank in Chicago. I had been tossed out of her kitchen quite a few times. Still I got more than my share of treats there—hot chestnuts wrapped in bacon are highly recommended. Her office was usually off limits. Sally owned a white Eldorado convertible with a red top. The License plate read SALLYS. I was heading for the bathroom when I noticed that they were about to tow Sally's car. I ran into the restaurant. I need Sally! Not around. I ran into her office yelling Sally! Jimmy Jennero (her manager) caught up with me. By then I was waving my arms. "Sally. Sally!" Jimmy asked what? They are towing Sally's car. He dashed off. Then Sally came in. "They are towing your car." She took off. Later I found out that the guy driving the tow truck was plastered. He also did not have an order to tow the car. Sally was yelling at him in Sicilian and Jimmy in English to put it down. Beyond being plastered the tow truck guy got into all sorts of trouble as the tow truck company had a contract with the city.
Development of The Brady Street Association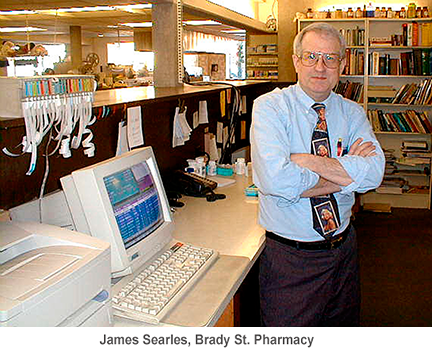 …Actually it was Barb Searles and Ellen Callahan who got the Brady Street Area Association going again. The combination working City Hall was great. Ellen was noisy. Barb was quiet but very effective. After Barb died of breast cancer the City of Milwaukee Common Council (post facto) awarded Barb a gold-leafed letter mounted on walnut for her services to Milwaukee. "WHEREAS, Barbara Searles was intimately involved in the Brady Street renaissance, serving as one of the founding members of the New Brady Street Area Association and being appointed by the Mayor to the original Business District (BID) board; and …." It goes on for some time on the impact of Barb on Milwaukee. The presentation was made in the basement of St. Hedwig Church, Humboldt at Brady Street. The room was packed. —James Searles
Searles, who grew up in Glendale and attended Nicolet High School, graduated from Madison as a pharmacist in 1968. He was named "Man of the Year" by Henry Meier in the early 1980's for his work with ESHAC and credits himself, his wife Barb and Ellen Callahan as the driving forces behind the development of The Brady Street Association. From www.OnMilwaukee.com, Dec. 9, 2002.
---
The Brady Street Gang: Retrospective from 2021
by Robyn Spradlin
Century Hall
The talented opera singer was a longtime member of "the gang." Bob Raasch had intended to call her but discovered that it was too late. "Now I can't and I feel terrible," he lamented.
Raasch's nostalgic contemplation marked the 12th anniversary of the May 1 closing of the Brady Street Pharmacy and Café, where decades of his sojourns had created memories and more.
While visiting Milwaukee's Astor Theater as a child to watch Cecil B. DeMille's "Reap the Wild Wind," Raasch had no idea his future self would be immersed in "The Brady Street Gang," inhabiting the same building days on end for multiple years.
The moniker "Brady Street Gang" has an ominous ring; however, threatening activities weren't incurred. Quite the contrary, they gathered daily at the drugstore cafe enjoying newspapers and coffee, but mainly the companionship of others frequenting the neighborhood establishment. They spent myriad hours creating connections that outlasted the business.
Raasch, a Milwaukee native, lived there until he became an audio engineer in Nevada in 1967. However, he hadn't encountered this group until a friend, opera singing postal worker Sol Zitron, introduced him to the Knickerbocker Hotel's coffee shop.
"They had a great coffee shop," Raasch chuckled.
He recalled helping move the business from the Knickerbocker to the Astor Theater overnight. Volunteers loaded kitchen equipment, store shelving and contents into trucks, then relocated and reassembled the business for opening the next morning. "The gang followed" the coffee shop to its new home at the intersection of Astor and Brady Streets, he said.
The colorful group consisted of opera singers, a postal worker, a boxing instructor, a bridge-builder, local government officials, professional photographers, banking and investment brokers, graphic designers, writers and editors.
He likened them to a "smaller version of the Algonquin Round Table," a group of writers, actors and critics who shared leisurely lunches at New York's Algonquin Hotel during the '20s.
Raasch explained the Brady Street Gang's appeal. "It was the camaraderie. They were all friends and acquaintances, and we were all so used to being together, so it became a thing where we met all the time."
"I so looked forward to going there," he said. "I lived in Las Vegas and took summers off. I went to Milwaukee and worked with the stagehands putting in shows, like Pink Floyd (with) 14 truckloads of equipment that took three days to set up," he added chortling. Milwaukee summers were full of festivals, and Raasch hung out at the coffee shop between setups and teardowns.
"I was at Brady Street from the beginning, I was hooked on the place." A wistful sigh escaped as he continued, "I really miss it – I miss those times."
Raasch explained the cultural impact of moving from Juneau Avenue to Brady Street's largely Italian neighborhood.
"The diversity made it better," said Raasch. "In the morning, the lawyers would come in; when they left, the locals, the Italians," he continued, erupting in laughter. "We called them the Mafia, but they were all a bunch of nice people. Then in the afternoon, it was other people."
Raasch described a rich, flavorful medley of religions, politics, cultures, ethnicities and professions where differences failed at hindering cohesive relationships.
"Not everybody agreed with everybody, but that was left behind. They didn't make a big deal out of everything which they shouldn't today, either."
The unintentional historian attributed the group's successful longevity to building bridges, — not barriers —with others.
"There was a story with every person," he reminisced. "I am happy to have known them all."
Raasch said "Henry" was such a man; he sat alone, seldom joined the cafe chatter. A river of dialogue overflowed; the barrier dismantled when Raasch initiated a conversation. Henry previously built bridges and withstood Alzheimer's encroachment.
Raasch still keeps up with the survivors, concluding, "You can go to any city and find gathering places where the same group comes in every day to talk and have fun."
It's a legacy that the veteran raconteur leaves for a discordant world: Out of diversity can come harmony and the bonds of enduring friendship.