Silver Screens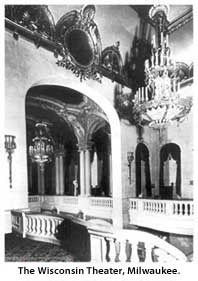 by Larry Widen and Judi Anderson
A Pictorial History of the Theaters of Milwaukee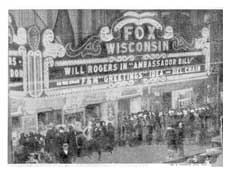 Silver Screens traces the rich history of Milwaukee's movie theaters, from 1890s nickelodeons to the grand palaces of the Roaring Twenties to the shopping mall outlets of today. Authors Larry Widen and Judi Anderson explore the drive-ins, movie promotions, restoration efforts, and more. Illustrated with more than 100 fabulous photographs, many never before published. Larry Widen is the owner of Milwaukee's historic Times Cinema.
Paperback: $24.95, ISBN: 0-87020-368-1, 180 pages, 140 photos and illus., 8×9″ available at http://www.wisconsinhistory.org/whspress/books/book.asp?book_id=307
Wisconsin Historical Society Press Interviews Larry Widen
Wisconsin Historical Society Press: It seems no one did anything along these lines before you began your work in the 1980s. How did you come to "own" this part of Milwaukee's history?
Larry Widen: There were several small articles published about Milwaukee theaters in the 1960s and 1970s, but up until "Milwaukee Movie Palaces" in 1986, there was no single body of work devoted to the subject. I feel very fortunate that I became the one to compile this aspect of Milwaukee's history. My research actually began in 1979 when I discovered an article on the theaters in a magazine from the Milwaukee County Historical Society. I began making trips to the Society's library to look at the collection of photos. When I got out of college in 1982, I was a freelance writer and photographer (because quite honestly I didn't know what else to do with myself!). In between the paying jobs, I began photographing the facades of former theaters such as the Egyptian, Apollo, Lincoln and others. Once I built up a set of photos, I used the old city directories at the Public Library to create a list of names, addresses and dates of operation. That particular bit of research generated more questions than it answered, and the digging for information continued for the next several years. In 1985, the late Dr. Fred Olson, a history professor from UWM, looked at the body of work and said, "You know, you have enough for a book here." Dr. Olson helped bring the manuscript to the attention of the Historical Society's publishing committee.

WHS Press: You have no formal training as a historian. What are some pros and cons of being self-taught?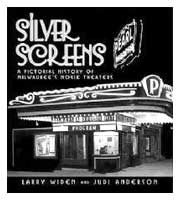 LW: Great question! The cons probably outweigh the pros, but there is some value to being self-taught. The writing part was easy because I've always been a writer and my degree is in Journalism. But very quickly I learned where all of Milwaukee's official historical repositories where and how to access them. Tax records were kept in one place, building permits in another, and so on. Along the way I was helped time and time again by librarians, clerks and other city and county employees. The one thing about history that can't be taught in a classroom is curiosity. If you're not interested by the subject, you won't be motivated to go digging for the answers. I happen to be fascinated by certain histories, and so the desire to learn wasn't an issue.

WHS Press: As a rule, history is rewritten about every ten years. How has this affected your theater research and the findings presented in the new book?
LW: What's amazing about "Silver Screens" is it was entirely generated from the 1986 "Milwaukee Movie Palaces." People who loved the first book contacted me with stories and photos that I would have never otherwise known about. The Saxe history is greatly amplified in "Silver Screens" because someone gave me a 100-page document containing a deposition taken from a longtime employee at the time the company was sold to Fox (1927). This testimony was highly detailed and filled in a lot of the mortar between the bricks. It also helped me correct some errors from the first book. I think the story of Milwaukee theaters is much more complete now.

WHS Press: What was the most interesting part about the process of creating this book?
LW: Working with [editor] Kate Thompson and watching the book take shape under her guidance. I'm a writer, not an editor, so I was grateful for her leadership. She's an excellent editor and a pleasure to work with (although there were times when I think I drove her crazy!). Believe me when I tell you that we wouldn't be holding "Silver Screens" in our hands without her keeping me on deadline! I hope she and I can do something else together in the future.

WHS Press: Describe the process of gathering the information for this book. What became relevant, and what was cut from the final version?
LW: Some of the material is derived from my earlier book, but much of it is new, as I related earlier. The book was constructed journalistically, mainly through interviews and subsequent confirmation of fact. Kate and I did a number of revisions to the text, streamlining text passages or in some cases reducing the level of detail, but this was primarily to get more photos in.

WHS Press: How were the images for Silver Screens selected?
LW: It was a collaborative process with [editor] Kate Thompson and her staff. Kate asked me to put forward a list of mandatory photos and a list of photos I'd be willing negotiate for. She was willing to work with me to slim down certain pieces of text in order to slip in another picture. That's where the collaborative part came in. I think the photos are a huge part of the story.

WHS Press: How is Milwaukee's theater history different from other cities?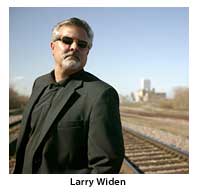 LW: It's not, really. Movie theaters came to American cities at approximately that same time (1903-4). New York City was first, like always, and Chicago followed immediately afterwards. Then the nickel theaters spread like wildfire to Minneapolis, Milwaukee, Madison, Kansas City, Buffalo, etc. Everywhere. And it didn't take long for them to open in smaller towns across the nation. What's different about Milwaukee is the personalities. We had the Saxe Brothers, while Chicago had Balaban and Katz.

WHS Press: Is there an example from modern business that could be compared to the time when the first theaters appeared? Risks to investors, courage to try something new?
LW: I think so. The best example I can come up with is the Internet. It's part of our lives now, but in 1993 and 1994 who was visionary enough to see its potential? Many thought it was a silly fad that wouldn't last. Those who believed in it took their chances and invested in it. Some lost everything and others rode the wave to financial success.

WHS Press: Does this "pop culture" history resonate more with people as opposed to a "textbook" history?
LW: While both types of publications have an audience, I think the "pop" history appeals to a wider set of readers. I write for a magazine here in Milwaukee, and the editor paid me a great compliment recently. She said she always hated history until she began reading and publishing my stories. What she likes about them is the way I bring the subject to life and make it fun to read about (her words, not mine!). In the case of movie theaters, it's a very nostalgic subject, unlike, say, a Civil War textbook. The movies are a phenomenon of our culture, and we recall going to them with dates, family and friends. And as I indicated earlier, it's the fabulous photos in this book that really make it fun to read. Too many footnotes would make it tedious, and that's not the experience I want the reader to have.

WHS Press: What reaction do you get from people on the subject of old theaters and movies?
LW: It's very gratifying. Many people see me as a kind of "nostalgia merchant" who helps them relive their youth. I think a book like "Silver Screens" takes you away from the unpleasant headlines of the day and off into a different time. Everybody needs a little of that, especially these days.

WHS Press: What other kinds of things do you write about?
LW: In addition to history pieces, I do a lot of writing for the Milwaukee Journal Sentinel. In the last year I've interviewed musicians B.B. King, Buddy Guy, Bonnie Raitt, Alice Cooper, Cheap Trick, Bob Weir (from the Grateful Dead), Gregg Allman, the guys from Lynyrd Skynyrd, and Joan Jett, to name a few. I've also interviewed actors Mickey Rooney and Jeff Daniels. I write a lot of "people" stories as well. I've published stories about being homeless, the life of an exotic dancer, living with AIDS, and riding with the police in the middle of the night. All my work is posted each month on my website, http://www.larrywiden.com. Take a look.