A short history of one of Milwaukee's most popular 'garage rock' bands.
First Set: Party Time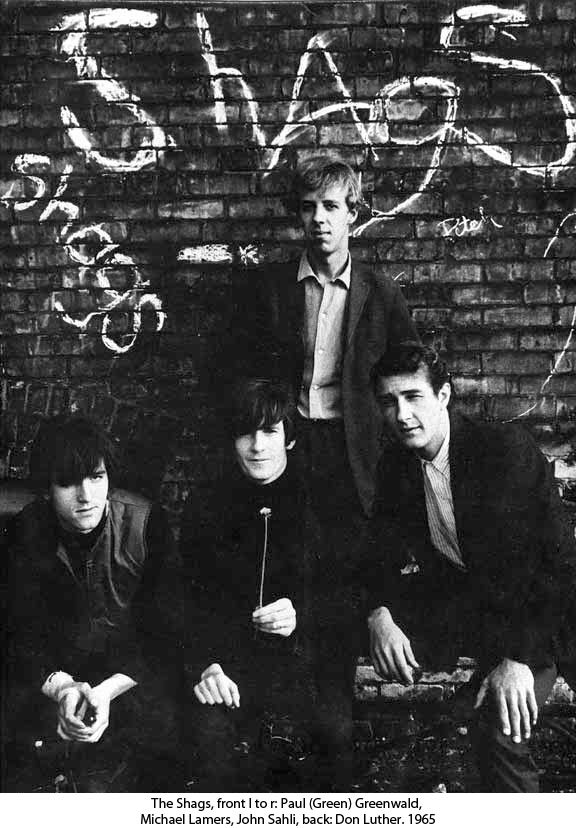 Bands have to start somewhere and so it was in 1964 with Milwaukee art school students Paul and John who would show up at get togethers, Paul with his conga drum and John with his folk-acoustic guitar and pound out a lot of noise. Partygoers egged them on and soon they were joined by George with his stand-up bass, which was tough hauling around the lower East side. One day Paul called John over to his house to show off a full set of drums, which a friend left to his care while doing a tour in the Army. John's acoustic guitar couldn't match up to the intensity of Paul's drum set, so John picked up an old Danelectro electric guitar and amp and began to work out with Paul and his new drums.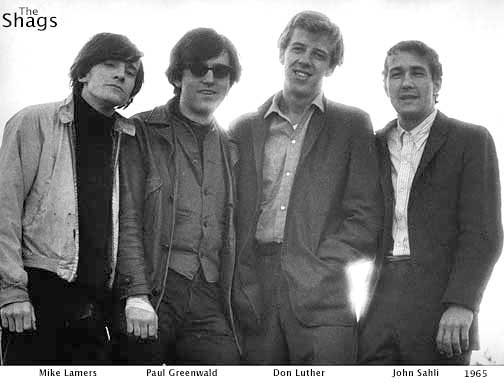 Mike, another fellow art student came over and got excited at what Paul and John were doing and wanted to get in on the action. They suggested that Mike go out and get an electric guitar and John could show him a few licks. So the three of them worked out some basic sounds, with Paul laying some lyrics on them. Since George didn't shine around any more, a bass guitar was still needed and Don, another fellow art student, heard the call and made the scene, trading in his old guitar for a new electric bass guitar. So the stage was now set for fun and play. They jammed and jammed and managed to come up with some tunes of their own, in and among some Rolling Stone's and folk-blues diddies.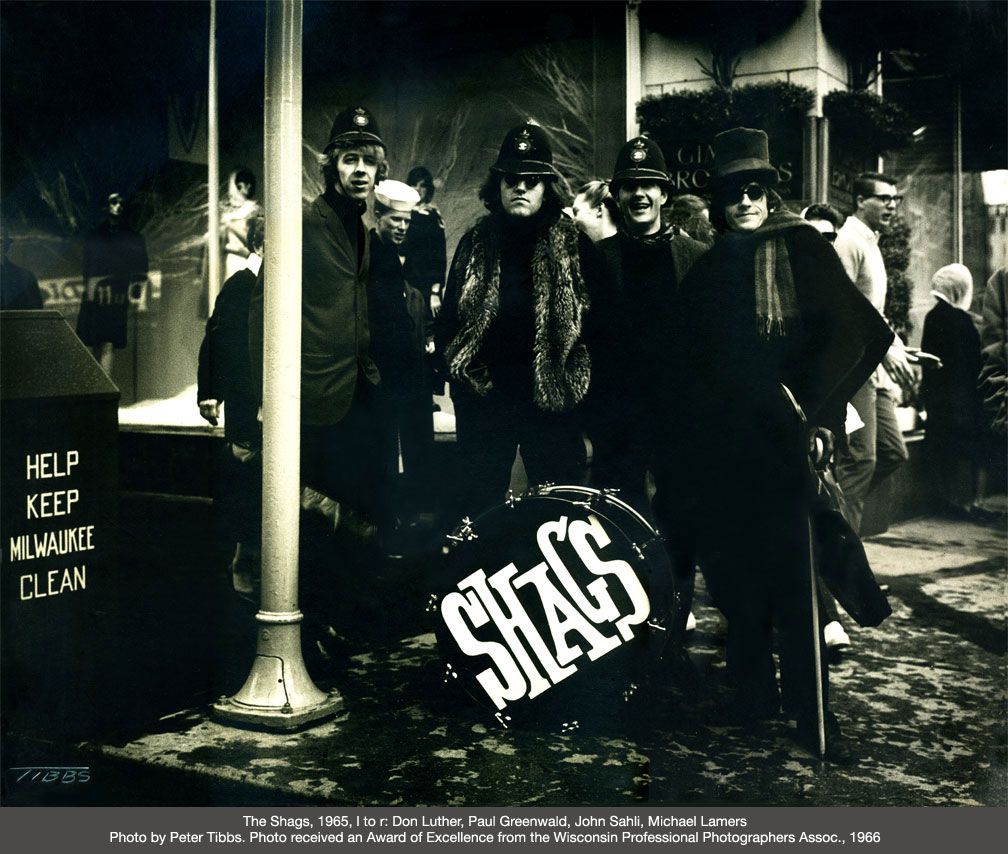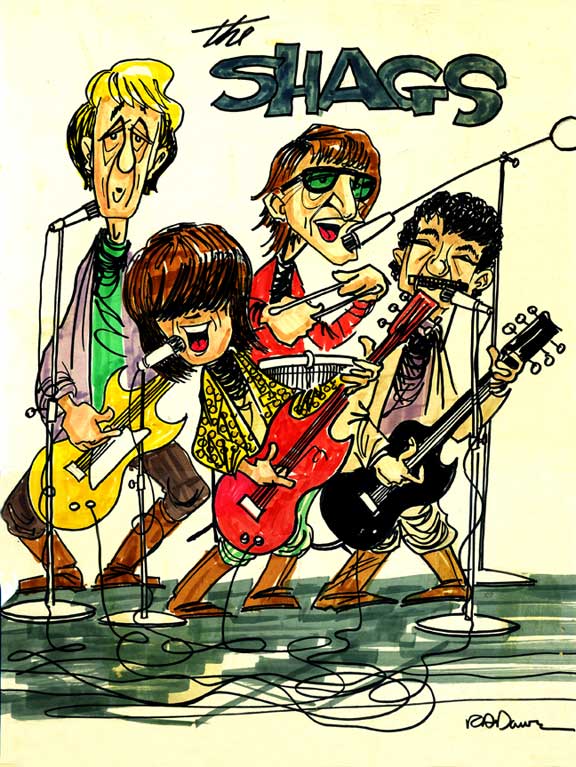 They decided they would call themselves "The Shags". The group donned turtshagslenecks and boots, played some "art" parties and soon got asked to play weekends at D'Aquisto's, a local bar. As unprepared as they were, they accepted the opportunity, scrambling around for some equipment, including a decent microphone, which they ran through a hi-fi home amplifier for Paul's vocals. Somehow they got it together and crammed into a small corner of the bar where they cranked out the same handful of tunes over and over. The crowd loved it and Freddie paid them with pizzas after closing time.
Second Set: Real Money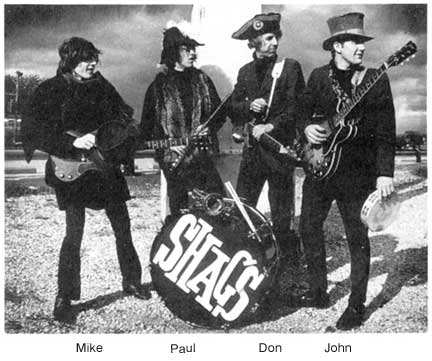 Now the group had made up enough tunes to play four full sets, about 34 tunes in all, and could play a full evening's show with hardly any repeats. The group took on a manager in hope of bigger and better things. One of their first bookings was at a converted bowling alley-basement bar on Locust Street. When the group arrived and began carrying their instruments downstairs, the owner who was mopping the floor met them and asked what they were doing there. "We're the group that's booked to play here tonight," said John. "No long hairs are going to play here," quipped the owner. So the Shags packed up and left. After seeing some of the group's success, the relenting owner wanted the Shags back and they soon agreed to play there. For the first week or two, most of the crowd was made up of friends and others who the group got to come there for a good showing. But it wasn't long before the word of a new, unusual group with a big dance beat got around, that they filled the place on their own merit. Momentum grew and the Shags went on to become the "house band", packing O'Brad's and getting paid regularly, which they would continue to do for some time.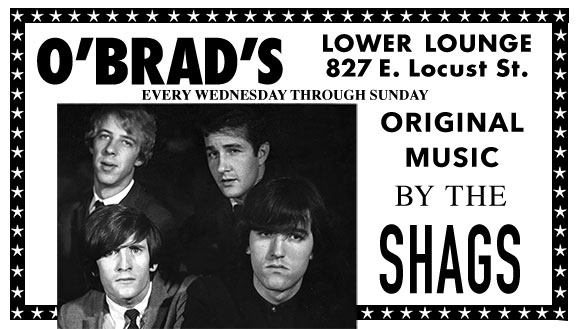 Third Set: New Horizons
The group decided to record a 45-RPM record and with some sessions at the Dave Kennedy recording studio in Milwaukee, came away with "Dance Woman" and flip side "Cause I Love You" done on the Raynard label in 1965. It was heard on local jukeboxes and got some local radio play. After awhile, one of the group's members, John, decided to leave the band and follow a design career. Ray took over for John at lead guitar and also added keyboards to the group. New tunes were included in the sets and in 1967 the group recorded "Stop and Listen" with flip side "Melissa" on Capitol Records, which achieved some Psyche-Rock notoriety. "Stop and Listen" was also included on a Pebbles album release which featured selected Wisconsin groups. It was also included on the Acid Dreams Epitaph- 75 Minutes of Green Fuzz album.
The group had to alter its name to the Shag, dropping the "s", because of a conflict with another recording group called the Shags. Shortly thereafter, Ray left the group for other interests and was replaced by Gordy on lead guitar.
Shag "Stop and Listen" video, live at O'Brads Lower Lounge
Fourth Set: Moving Time
The group's repertoire began to take on more depth and polish along with costumes, lighting, smoke and drama. They were booked around the state and played at some large rock concerts with marquee groups. In 1968 the group decided to make the big move to California, where much was happening on the music scene. They would have a good chance to get involved with it, and soon they were.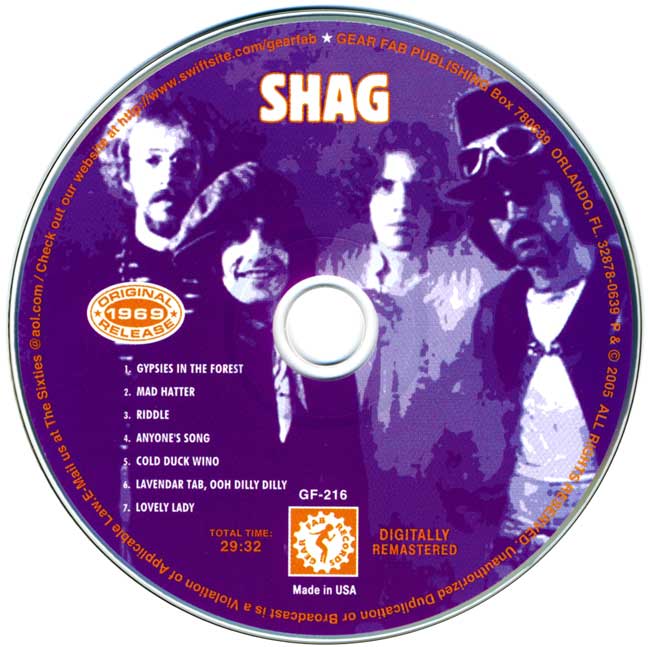 They played on the same billings with some popular groups including The Jefferson Starship and The Who. At the Pacific High recording studios in San Francisco in 1969, the same recording studio that was then recording The Grateful Dead, the Shag recorded an album of their own original tunes. The group eventually disbanded in the early 1970's and each member followed their own direction. Their 1969 LP release was digitally remastered in 2005 by Gear Fab Records (GF-216) and made available for sale online listed as Garage Band and Psych-Rock music. See http://gearfab.swiftsite.com and click on Catalog.
Cast of characters:
Paul……………… Paul "Green" Greenwald – Drums, flute, keyboard, vocals
John…………….. John Sahli – Guitar, harmonica, vocals
Mike ……………. Michael Lamers – Guitar, percussion, drums, autoharp, vocals
Don……………… Donald Luther – Bass Guitar, percussion, vocals
Ray……………… Raymond McCall – Guitar, keyboard, vocals
Gordy………….. Gordon Elliot – Guitar, harmonica, congas, vocals
Manager………..Paul Pattengale
Bar Owner 1…. Freddie D'Aquisto, D'Aquisto's Bar
Bar Owner 2…. Bob Halliday, O'Brad's Lower Lounge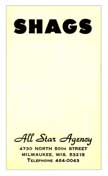 —John Sahli, 12/08 e-mail John
Also see: 60sGarageBands.com
Feedback:
What a great article. I remember sneaking down the stairs of O'Brads to catch a glimps of the strange people and hear all this weird music. Sometimes they would even let me stay for awhile at the bottom of the stairway where everyone was greated by a bouncer. I think I was maybe 13 or 14 years old at the time. There also were 2 other local bands that played some weird music, The Corporation and The Velvet Whip. All this weird music stuff soon became the new hip thing and it wasn't long before this one hippy DJ named Bob Reitman started playing all this stuff at a radio station called WTOS. The rest is history. Along came The Doors, Fleetwood Mac, Jefferson Airplane, The Cream etc, etc. Thanks for sending this off to me. It was fun reading. Wishing you a VERY Prosperous New Year and Good Health.

—Damian and the Bride