When I spoke with Harry Holloway on the phone I could feel his excitement when he spoke about the time he spent with the 770 Club. Wait, but isn't it Club 770 now? In October 1944 when the club first opened, it was the 770 Club, named for the Memorial Union's address at the time – 770 Langdon Street. Harry Holloway was the club's first Master of ceremonies and he loved it!
Mr. Holloway, originally from Wisconsin, performed professionally in Milwaukee and in New York as a song and dance man, leaving only after developing TB. After being discharged, he came to UW-Madison for his law degree. Mr. Holloway was asked to entertain weekly as master of ceremonies at the 770 Club. For $15 meal books, Harry performed every week with acts from the UW student body and his accompanist Jerry Bock (who has written the music for "Fiddler on the Roof" and four other Broadway musicals!). On the campus of 10,000 students, Mr. Holloway became known as '"the big man on campus". The Daily Cardinal wrote articles about the young entertainer, and he became a local celebrity; he even took on another job, performing at the Great Hall's Coca Cabbana!
Today Mr. Holloway is 83 years old and still young at heart. After graduating from the UW Law School, he became a well-known trial lawyer in Milwaukee. He is now retired and living in Prairie du Sac, Wis.
I want to thank Mr. Holloway for being sohelpful and for sharing his story with us. Who knows, he says that he would like to come back to the Union again and possibly perform!
Photos of Harry Holloway conducting the Milwaukee Sentinal/Fox Theaters "Talent Quest"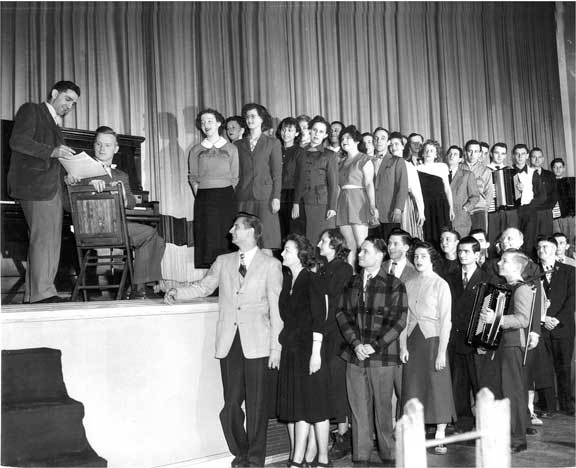 Schusters War Bond Promotion with Harry Holloway.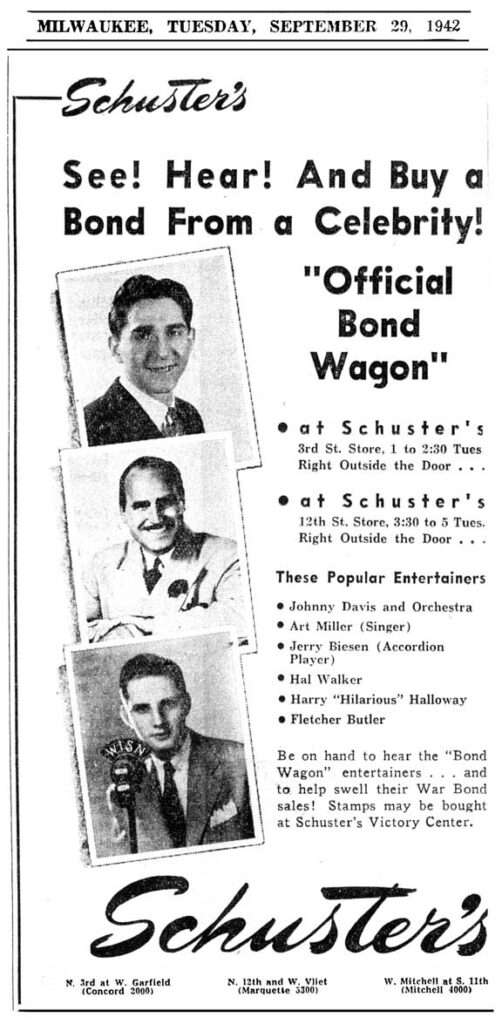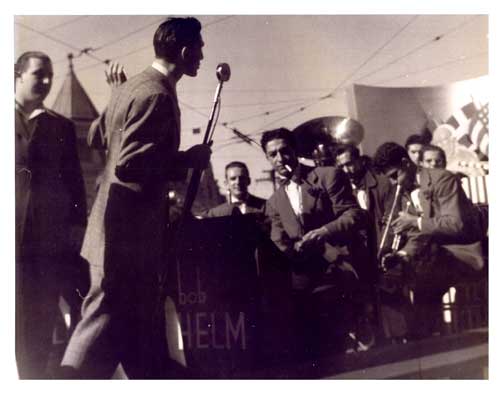 Photos of Jubilee Week and Daffy Auction Promotions.