The Learning Tree, 1969, semi-autographical, was written and directed by Gordon Parks, African-American. The film was among the first 25 films selected by the US Library of Congress to be preserved in the National Film Registry in 1989.
Shot in rural Kansas in the 20's, the film reflects Parks view growing up in a poor family in Kansas, youngest of 15 children. The Kansas land could quickly change to pain. The Learning Tree is based on a crime changed into a vehicle for hate. Parks in his youth saw more than one killing by the local sheriff, unquestioned authority, a racist. The film does not name a villain. It forces us to look at the economics that thrived in Kansas. Parks said that we can not just picture evil "and say 'This is a bigot' because bigots have a way of looking just like everyone else. What the camera had to do was to expose the evils of racism, the evils of poverty, the discrimination, and the bigotry, by showing the people who suffered most under it."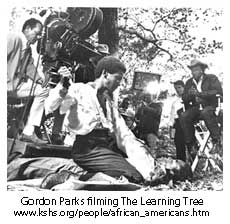 If we are asked to witness something, to many the term means explaining the events in a clear objective terms as they happened in a court. Another view might be found in a Black Baptist Church. Parks said "the word also means a deeply personal statement of an inner truth, spoken in a voice that can not be stilled or shouted down." Parks framed the Kansas plains and the people in clarity. The film also witnesses another truth so important that can not be restrained. The combination showing the outer surface of society while at the same time viewing the inside of the protagonist's hearts is an explosive combination.
The 1920 setting of Kansas is deceptive. The film called for change – briefly known as LEARN, BABY, LEARN, THE LEARNING TREE. In 1969 the flames of racial frustration had long simmered. The film was a cool wind showing viewers a different understanding of the black experience than the media view. Parks saw a view of a Kansas with strong families and honesty between the races and a nightmare red with the burning skies – a place where a young man has to pick between living with himself and others – a choice of life or death. "The learning tree grows alone, windblown and solitary on the dusty plains." The film turns of the ability of whites to hate blacks and in doing so watch them self-destruct consumed by the hatred that they express. "In a place where the land ordinarily yields a rich bounty, this tree bears a bitter fruit." Put this on your list of videos worth watching.