BEST LOCAL FESTIVAL!
Wednesday, February 1, 2006
Milwaukee Short Film Festival
Location: Milwaukee, WI
Wednesday, February 1, 2006. When one thinks of great moviemaking hotspots, Milwaukee may not be the first city that springs to mind. But thanks to a growing moviemaking community and a hunger for creative art, Beer City is making its mark in the cinematic world (see MM issue #58, Vol 12.) The Milwaukee Short Film Festival is taking advantage of that thirst, proving that there is an audience eager for short films.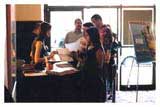 The festival started 10 years ago as a program on public access television. "The festival began as a showcase for local experimental filmmakers and students from the local film department to have their work shown in the city," says fest founder Ross Bigley. Since its inception, the festival has grown exponentially. In its fourth year it moved from public access to a coffee shop and doubled its attendance over the next two years. The one-night event is now held at Times Cinema and is known worldwide. According to Bigley, 80 percent of the films are out-of-state or foreign-made, but he says there is still an advantage for local filmmakers who enter: A separate competition, wherein the Best Milwaukee-made movie is shown to a wide audience at the Milwaukee International Film Festival.
Check out Moviemaker magazine at: www.moviemaker.com