Pop icons arise and fade according to the changing needs of the culture. It has been so since mass culture was birthed from the industrial fires of the late nineteenth century. Who was the "It Girl"? And why? Does anyone still know that if you wanted a quotable on any subject at the beginning of the 20th, yes 20th, century, you'd ask Mark Twain? Has anyone ever heard of "The Snark"? How about Dobey Gillis?
The day will come, of course, when our children will need to have Madonna explained and J-Lo and Justin and even Bill Clinton, for that matter. The mill of God's justice may grind slow, but the mill of pop fame grinds much faster.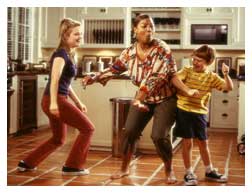 And so, Queen Latifah. I just happened to see Bringing Down the House not long after reviewing Chicago, so when asked to write about the Queen, I had images fresh in my mind. She is, above all else, a rising star whose presence lingers in the mind.
She fills a large space. She's talented, of course, but she's also, well, she's also… and that's a good thing. She's the perfect response to Halle Berry, the real woman versus the pin-up. And, she's the logical next step in the civilizing of Hollywood, an industry which despite its current face of political correctness, has been very segregated and very petty through the years – witness the treatment of Hattie McDaniel, for one prime example.
Queen Latifah may become the new Mae West. She's a caricuture of herself – funny, loud, naughty, and well aware of it. And we're aware of it. And she's a black woman. And we're aware of that, too. After Whoopi Goldberg, name some black female comics. Stumped?
Queen L. is funny. I enjoyed Bringing Down the House, her Hollywood coming out party. She matched Steve Martin in sheer screen charisma in the slapstick sequences, and only let show her lack of polish when trying to pull off poignancy. If she can take that next step that Martin or a John Candy took and show genuine vulnerability on screen, she may be able to command her own starring roles. If not, she will at least have many opportunities to play supporting characters for many years.
Not bad for Dana Elaine Owens from East Orange, New Jersey, former employee of Burger King, daughter of a cop. And not bad for someone marginalized in the narrow confines of rap, even someone with as many hit singles as she has amassed. She deserves credit for blasting her way through the bland misogyny of that world, drowning out mediocrity and ugliness with her own honest, good-natured, sassy self–on the Motown label, no less. Now she is set on blasting through the last cardboard wall of racism in the highly regulated Hollywood castle.
Her talent is wrapped around her exhuberant personality and her place in the evolution of American pop. Her messages of unity and equal justice are toned just right. If she can keep from assaulting photographers and steer clear of the dissipation that swallows up so many talents like hers, she may be one of the more recognizable faces on the tabloids for, oh, a good fifteen years.