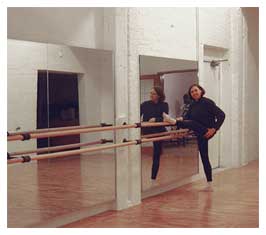 Katherine Zavada grew up in Eau Claire Wisconsin, a town which had limited opportunity to study ballet. There was a fabulous teacher who occasionally would come with her professor husband who taught at Eau Clair University. I took theater classes and did children theater from sixth grade through high school. I lucked out getting leads in the college musical shows before I started college. Later I was asked to choreograph the musicals including summer stock.
I was married after my sophomore year and moved to Milwaukee where I had the opportunity to join the dance program at UWM. The rest is history. I had my chance to study ballet and other dance forms that I loved so much. When I did my last acting gigue, I had tallied 22 shows for Public Television. I had enough work to just do dance, my first passion.
I always knew I wanted to teach when I was at UWM. I am now teaching at this beautiful space at the Astor Theater and loving it.
Contact information at River East Dance: www.artisticwebworks.com/red/
E-mail: rivereastdance@artisticwebworks.com