Shortly before viewing the film Precious, I happened to see a youtube video of graduating students and their scrubby friends making a shambles of a high school commencement ceremony in inner-city Milwaukee. The week before, my own grueling school year at an urban high school in Milwaukee had just come to an end. So, I can't pretend to have come to Precious with a blank slate, which may in part explain why the film seemed both so riveting and so deeply depressing, like a bad traffic accident with wreckage scattered across the road.
Based on a 1996 novel called Push, Precious tells the tale of an obese and illiterate black girl in Harlem, who must change schools due to a second pregnancy. Precious (Gabourey Sidibe) is sixteen. Her first child, L'il Mongo, has Downs Syndrome. The father of both children is Precious' own father, who began sexually abusing her when she was still a small child. Precious' mother (Mo'Nique) abuses her verbally and physically, claiming Precious has stolen her man. There is more to the horror of the situation, too, as Precious seems doomed to be everywoman walking through some urban nightmare.
What redeems the story, somewhat, is a teacher at an alternative school who takes an interest in Precious and several other at-risk students and encourages them to journal and work on their reading skills. The teacher, Blu Rain (Paula Patton), manages to instill in Precious some sense of her own worth, giving the girl strength, later in the story, to break free from her corrupt home and make a commitment toward furthering her education. The storyline on this point follows the lead of numerous other films about inspiring teachers, from To Sir with Love (1967) to Freedom Writers (2007). The difference is one of degree and focus. Precious will not be taking any AP Calculus exams, although she does leap from a 2nd to a 7th grade reading level, and Blu Rain is not celebrated as a hero and promoted—the film stays on the subject of the abused girl.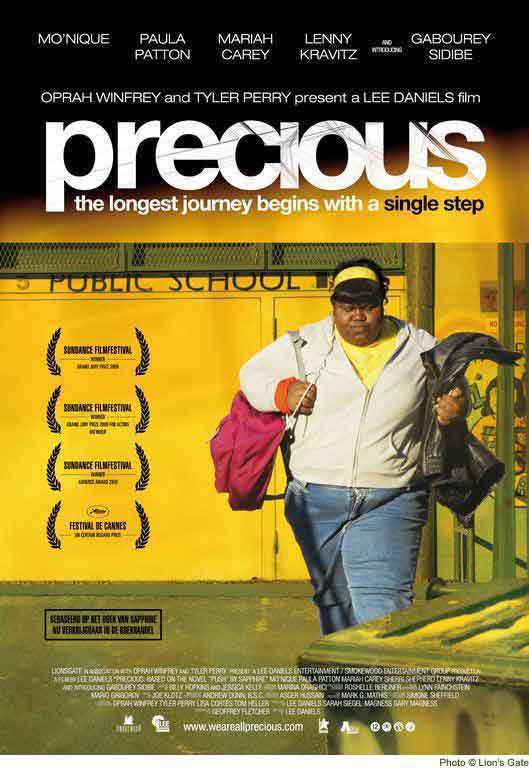 In fact, director Lee Daniels does not allow Precious in any way to drift toward sentiment. The film is a strict adaptation of the source novel by Sapphire, who has been accused of painting a sensationally bad picture of the lead character, a composite of everything awful from the metro section of any city newspaper. When you add the iconic three dimensions of a large screen feature film to the bleak vision of Sapphire's novel, you get this drama that both attracts and repels. At several points during the film, Precious fantasizes about what her life should be like, and this image is displayed on the screen—as a music video star while being raped, as a pretty blonde girl while dressing for a meeting, as a gospel singer while looking through the windows of a rescue mission. Even these short diversions have a painful edge, however, since they appear slightly garish and pathetic in their impossibility, given the girl's terrible circumstances. This unrelenting dreariness may be the reason for the choice of beautiful Paula Patton for the character of Blu Rain. The film needed to offer some visual relief. Yet ironically, albeit true to the world of this dark imagination, when Blu Rain takes Precious home one evening, we meet the teacher's lesbian lover there, moving the story even further from Little House in the Big Woods.
The only film that comes to mind that produces anything like a similar effect is Robert Bresson's Mouchette (1967), which tells a bitter tale of a poor abused girl whose circumstances also seem impossibly bad and hopeless. In Mouchette, the girl is a French peasant who likewise suffers nothing but degradation from her family and peers, but who chooses suicide, not an alternative school, as her solution. That storyline would not have won the endorsement of Oprah and Tyler Perry, who assisted in the promotion and distribution of Precious. While comparing Bresson's masterpiece to Lee Daniels' film may be a bit unfair on a stylistic level, it does underscore one key component in the story, and that is the resolution. Bresson, a devout Catholic, resolves his story with the main character's death; yet places that tragedy in a distinctly Christian context—how are we to pity and understand a young girl brought to such a place of despair, and how must God view the tragedy? In Precious, the same first question is raised, but not the second. We are asked to pity the girl and to look sympathetically at such urban tragedies. What we are not asked is what this all means. There is no suggestion of faith or divine love in the film, just an encouragement that a few baby steps toward healthiness can be tried.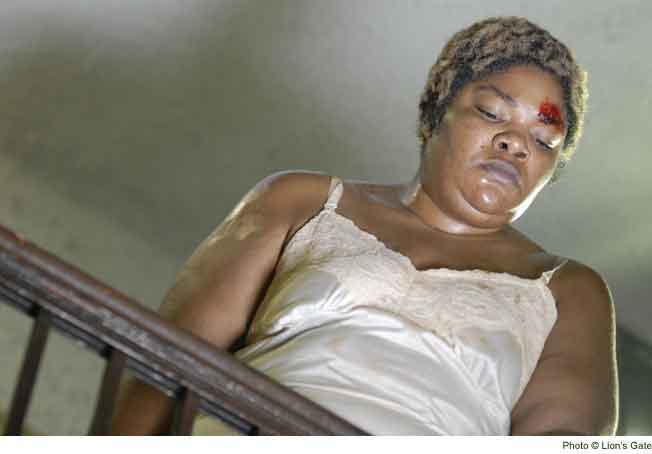 That being the case, Precious is a film that allows for a wide range of responses. As such it will make great material for classroom discussion for any teacher with enough job security to show it to the right group of teenagers. My guess is that most urban teenagers have met one of these characters in the course of their own lives and will have much to say. The film should likewise spark a larger discussion among the adults of this American culture who want to leave the world a little better than when they joined it, and who recognize the enormity of the social collapse in our cities. The film makes very plain that the victim who is the protagonist of this grim tale has an inner dignity, despite it all, that deserves acknowledgement, and an urgent response. These things should not be tolerated in a civil society. No child should experience such brutality. And no excuse can be tolerated that perpetuates the catastrophic collapses which are occurring in school after school and home after home.