Independent Comedy Filming in Milwaukee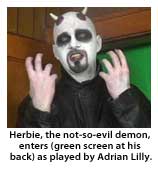 The independent comedy Port of Call, filming in Milwaukee, exposes the lesser-known side of drinking in Milwaukee. The side with inter-dimensional portals and visitors from places like hell.
Port of Call follows the misadventures of three friends on a quest to return The Holy Dice Cup of Antioch, a dice cup that allows the winner of a dice game to control the universe. The cup is left by three drunken Greek Gods who stop by the bar called Port of Call, which has an inter-dimensional portal in it. Strange visitors are constantly popping by to play bar dice and have a beer, so the bar regulars think nothing of it.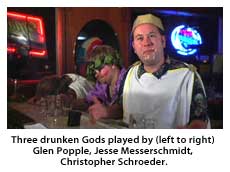 "Playing bar dice is huge in Wisconsin, so that's where the idea comes from," said screenwriter and co-director Glen Popple. "The basic idea behind bar dice is if you roll higher than the bartender you get a free drink. In Port of Call, instead of a drink you might get control of the universe."

Gary, holder of the cup, JD, his female bartender friend, and Steve, drinking buddy extraordinaire, travel through the inter-dimensional portal to return the unwanted dice cup. Gary runs into his ex-wife, Mikki, who truly is the Daughter of Satan. She has plans of her own for the dice cup and ruling the universe. And while Disco was bad, what Mikki plans to unleash upon humanity is far worse. It is up to Gary and his friends, with a little help from the not-so-evil demon Herbie, to keep the dice cup in the right hands.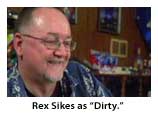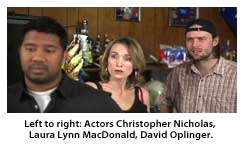 Despite budgetary constraints, complicated scenes such as a bar in hell and inter-dimensional travel have not daunted the intrepid moviemakers and cast.
"What is great about independent film is that whatever you lack in budget, you have the opportunity to make up for in creativity, and I believe that is what we are doing," said Adrian Lilly, co-director of the film.
Principal cinematography is being filmed in Milwaukee as well as other locations in Wisconsin. The film is being shot on digital video and will conform to theatrical and television audio and visual standards. The movie is being produced by Mutant Bar Monkey Productions.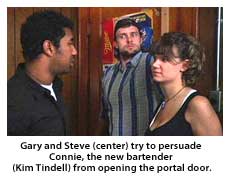 Port of Call promises to be a multi-dimensional comedy.
              Cast list
                Dirty……………………………………………. Rex Sikes
                Gary…………………………………………… Christopher Nicholas
                Steve………………………………………….. David Oplinger
                JD………………………………………………. Laura Lynn MacDonald
                Connie………………………………………… Kim Tindell
                Herbie………………………………………… Adrian Lilly
                Mikki………………………………………….. Jane Ramage
                Myron………………………………………… Jesse Messerschmidt

Contact: Adrian Lilly at adrian@mutantbarmonkey.com