Motion Picture Herald Magazine, June 24, 1961:
Way Still Open For Attack On Blue Laws, Says Levy
(Editors note: Blue Laws were the result of religious clout in the government dating back to colonial times regarding keeping stores, shops, just about anything shut on Sunday. "The Puritans believed that a child was born on the same day of the week on which it was conceived. Therefore, the parents of children born on a Sunday were punished for violating the blue law nine months earlier." Sunday was supposed to be a day of rest, worship. Later there were some exceptions; drug stores and grocery stores. That meant that theaters also had to be closed on Sunday cutting into profits. Most of the blue laws are gone with the notable exception with numerous states still either banning or restricting time of sale of alcohol.)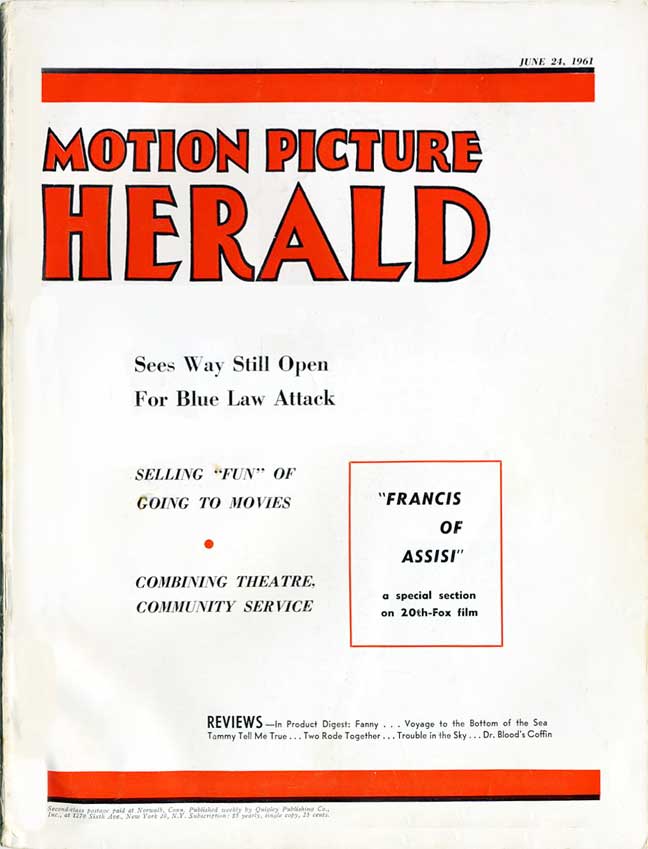 The recent Supreme Court decisions which held that Sunday blue Laws of Massachusetts, Pennsylvania and Rhode Island are not constitutional should be taken as final and conclusive law on the question of constitutionality of the Sunday Blue laws that are on the statue books in 31 other states. This was a new Case Digest prepared by Herman M. Levy, Theatre Owners of America counsel, after completing a study of the high court decision in the Maryland case. The decisions, Mr Levy said are not even final and conclusive law as to all of the issues involved in the Sunday blue laws problems. The Supreme Court left several doors open to future attack, and to different approaches of attack.
The reason for this, he said, is because of strong and indecisive dissents from the majority opinions, which are an asset in future cases in this field before the court; because the court did not pass on all the issues in Sunday legislation, but limited to those issues brought to court and because, in the Maryland case, it dealt only with the constitutionality of a section of the Maryland brought before it. Mr Levy notes that issues which either had not been presented to the court in the Maryland case, or had been insufficiently presented to it, could be raised in any type of case attaching Sunday blue laws.
Motion picture theatres have an additional advantage, he noted, because the three states involved in those cases, under their Sunday legislation exemptions, whether by local option or by hours restriction, etc., permit the showing of motion pictures. And while the Supreme Court did not deal specifically with the subject of motion picture theatres, it did hold those laws constitutional. It is hoped, he observed, that those interests now at work on the testing of Sunday legislation will not be deterred by the explosive effect of these decisions, but will continue with their efforts.