I've been a musician my entire life. My specialty has always been live performance; but earlier in my career I was always to be found in the recording studio. I was writing, arranging, and performing tracks on numerous songs and jingles.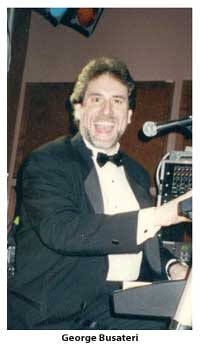 In fact, back when I was going to school I was working at a recording studio on the northwest side of Milwaukee. Jack DuBlon ("Albert the Alley Cat" – WITI-TV6) came into our studio. He wanted to record a couple of Christmas standards to sell on a 45 rpm record. The proceeds were to go to a charitable organization. Our lyricist and I talked him in to recording two original songs. He thought it would take too long; but we knocked them out in a couple of days. He wanted to record the songs using the "Albert" voice. We talked him in to using all of his voices on the flip side – a real showcase!
You can listen to them at my web site: www.georgebusateri.com
Or click on the following links:
Shortly after these songs were released, I was asked to join WITI as their Music Director. I was performing on the morning show called "Funny Farm" with Barbara Becker and Jack DuBlon puppets. That gig lasted over three years. I really learned a lot about production at Channel 6.
To date, this experience has proven to be invaluable to me.
In the years that followed, I primarily made my living with live performance. Feel free to browse my web site for the kind of performances that my fellow musicians and I will perform.
In the mid 90's, I was once asked to provide a soundtrack for an independent film. I had no idea of how to approach this beast; but with a bit of research and staying true to my conceptual approach to the project – I did it! Unfortunately, I have no examples of my work to share with you in this article. I honestly don't remember the title of the film, either. Not exactly a Blockbuster!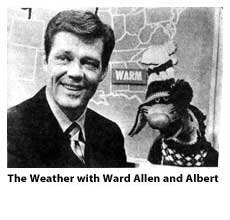 This experience absolutely sparked my interest in this music medium; and to this day I continue to enjoy music in film. I envy the talented composers that continue to stir my interest in this unique music medium.
It has gotten to the point that I can predict the quality of any given film, by the music composer chosen to provide the film score.
I'll offer some examples and let's see if you can remember some of the soundtracks or hit songs that came from these incredible films:
James Horner has provided the soundtracks for: Titanic," " Braveheart," " The New World," " A Beautiful Mind," to name a few.
The great John Williams has given us: "Star Wars," "Superman," "Indiana Jones," Harry Potter," "Saving Private Ryan," "Close Encounters," The Patriot," "Memoirs of a Geisha," and many, many more.
Hans Zimmer gave us: "Pirates of the Caribbean," "The DaVinci Code," "Batman Begins," "Gladiator," "The Lion King," and more.
Danny Elfman (one of my personal favorites) has scored: "Spider-Man," Beetlejuice," "The Nightmare Before Christmas," "Sleepy Hollow," and more.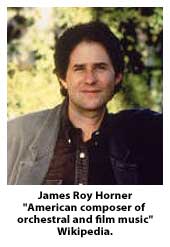 Some other personal favorites:
Randy Edelman: "The Last of the Mohicans"
David Arnold: "Stargate"
John Barry: "Dances with Wolves"
Elmer Bernstein: "The Magnificent Seven"
Leonard Bernstein: "West Side Story"
Maurice Jarre: "Lawrence of Arabia," & "Dr. Zhivago"
Howard Shore: "The Lord of the Rings"
OK, I won't bore you with more examples; but I'm sure that you can see the immense impact that these brilliant musicians created with their film scores.
What is a film Score?
A film score is the music in a movie, used to heighten emotions provoked by the imagery on the screen or by the dialogue.
A rather clinical way of saying, let's add anything from mood music to enhance a scene, to musical effects used in punching up a scene.
For example, you can punch up the scene; by the way John Williams created musical tension in the score from Jaws. You just knew that shark was nearby. Or, how about that shower / stabbing scene music, that Jerry Goldsmith gave us in the movie Psycho? These are examples of truly heightening our emotions.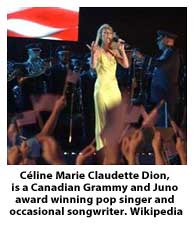 To the great film score composer, the soundtrack of the film requires so much more. A great musical theme that runs through the film often will become mainstream hit music.
The theme of the movie is the hit song that you can purchase to remind you of this great film. Add the lyrics and a rhythmic groove with that theme. Now add the Barbra Streisand or Celine Dion vocals and you've got a hit!
Some examples would be:
"Heart Will Go On" – Celine Dion, "Titanic"
"Can You Feel the Love Tonight" – Elton John, "The Lion King"
"Beauty and the Beast" – Celine Dion – Peabo Bryson, Beauty & The Beast"
"I've Had the Time of My Life" –Bill Medley JenniferWarnes, "Dirty Dancing"
"Up Where We Belong" – Joe Cocker, "An Officer, and a Gentleman"
"Chariots of Fire" – Vangelis, "Chariots of Fire"
"Evergreen" – Barbra Streisand, "A Star is Born"
"Speak Softly Love" – Al Martino, "The Godfather"
"The Way We Were" – Barbra Streisand, "The Way We Were"
"Laura's Theme" – Jarre & MGM Orchestra,"Dr. Zhivago" (remember the balalaikas?)
"Pink Panther" – Henry Mancini, "The Pink Panther"
"Moon River" – (Audrey Hepburn sang it in the movie)"Breakfast at Tiffany's"
"As Time Goes By" – Dooley Wilson (played "Sam") in "Casablanca"
"Over the Rainbow," Judy Garland, "The Wizard of Oz"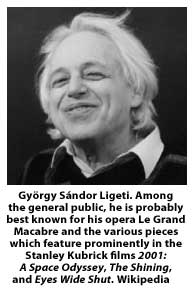 Of course, many movie soundtracks become synonymous with their film titles, as mentioned earlier in this article (ex: "Last of the Mohicans," by Randy Edelman; "Gladiator," by Hans Zimmer; "The Lord of The Rings," by Howard Shore, etc.) These soundtracks give you the illusion that you have been transported back to that time, to that era. I cannot imagine that any of these movies would have had the Academy Award impact they had, without the corresponding soundtrack. Can you?
Let's Start
Okay, you've got the gig. The Producers think you're the most talented, innovative and brilliant composer on the planet! So, what happens next?
You meet with the producers. The composer is shown a rough cut of the film. There will be a discussion with the Director, the Producers, and the Composer about what sort of music styles or themes should be applied.
This process (in film jargon) is called "spotting." In some cases, the director will talk to the composer prior to shooting the film. This is to give the composer more time to create a theme; or because the director needs to shoot song or dance scenes. However, in most instances the composer is given about eight to ten weeks to create and complete his work.
George Busateri is a Milwaukee musician, arranger, producer and songwriter, who has performed locally and nationally.
George Busateri was featured in this Milwaukee Sentinel article:
No Recognition in Leading a Double Life
by Joe Cannariato, Milwaukee Sentinel (April 23, 1982)
Not getting respect has propelled a major comedian to great success, but for many individuals in the entertainment industry that joke is a nasty fact of life.
In Milwaukee, George Busateri bears testimony to that.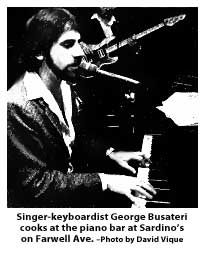 By day, Busateri works as an arranger, producer and songwriter for a number of entertainers based here and in Las Vegas, including Sha Na Na member, Johnny Contardo.
It's largely unheralded work.
By night, Busateri leads the talented yet relatively unknown George Busateri Trio. The group is the house band Wednesday through Sunday at Sardino's (1617 N. Farwell Ave.), one of Milwaukee's few remaining havens for a fulltime club musician.
As a producer-arranger, Busateri loves the behind-the-scenes work but admits it sometimes is frustrating.
"When your job is to make other people look good, it upsets you sometimes when it's all finished and you don't receive any recognition," he said.
"Don't get me wrong, I'm happy with what I do. What bugs me is people are so naive in thinking that musicians do it all themselves."
The public tends to believe that stars are just – born. They are not. People with talent are. Stars are created by energetic individuals like Busateri who devote long hours to produce a single that may run just 2 1/2 minutes.
The 33-year-old arranger agreed with that observation during an interview at Cornerstone Studios, a South Side recording facility. Busateri gestured expansively over his mixing board and confided, "I've resurrected more junk (music) in this place."
One of his recent production projects was a country-flavored, middle-of-the-road single, "Loving On Borrowed Time," that's receiving airplay on several local radio stations.
Busateri's five weekly gigs at Sardino's are a refreshing catharsis for him.
The trio features Busateri on piano, organ and vocals, Jay Herman on bass and vocals and Scott Wenzel (a member of Magewind as well) on drums. The trio struck out on its own last September after six years of backing various performers here and on the road.
"At first we just weren't together at all because we were so used to a front person," Busateri explained. "We started from the must embryonic stage a group can be in and blossomed into what I consider a strong trio."
Initial skepticism about the trio quickly evaporates when Sardino's intimate atmosphere combines with the band's skilled musicianship and excellent audience rapport.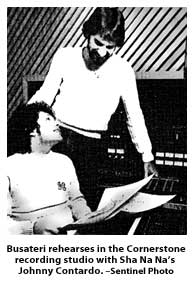 One word aptly describes the trio. Professional. Whether playing to a packed house on a Saturday night or 10 people lined up along the glass-topped piano bar on a snowy Thursday night, the band gives the same high caliber performance.
"Sardino's is a good place for us. They let us do what we want," Busateri said.
The trio easily handles widely varied musical styles. One night gives listeners the chance to hear high quality pop, rock, blues, jazz, reggae, bebop, R&B, golden oldies and old standards.
"If it's a good song, period, we do it," Busateri explained.
But the band is caught in a vicious circle of anonymity vs. unemployment.
"We're here cranking out but nobody knows it because the owners can't afford to advertise," Busateri said. "If they advertise then there wouldn't be enough money to pay musicians. Then people ask why aren't the good musicians working today."
Busateri believes the late '70s disco craze mortally wounded club musicians and forced them out, leaving nothing more than a void now that disco has died a long overdue death.
"People say Milwaukee music stinks, but give 15 bands a place to play regularly and it would be all right," he declared.
Busateri's dues-paying began with nun-taught piano lessons at age 7, high school bands, a University of Wisconsin–Milwaukee music degree with a correspondence course from Juilliard, music director for the old "Funny Farm" morning show, six years on the road and many gigs in Milwaukee in the past few years.
His addiction to music has sustained him through the valleys. That addiction has never waned.
"I admit I probably have a distorted view of life," Busateri said. "There's a lot of things I'd give up for music, including marriage. I'm organized when it comes to my business, music. It's when it comes to the rest of my life that I'm in disarray."