Milwaukee Youth Theatre has been around for 30 years. MYT is a resident at Lincoln Center for the Arts. MYT's mailing address is: P0 Box 510075, Milwaukee WI 53203. Our street address is: 820 E. Knapp St., Milwaukee, WI 53202 (414-390-3900).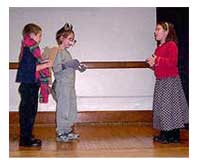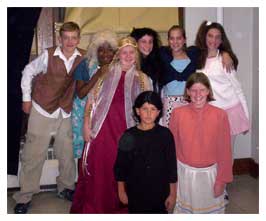 Milwaukee Youth Theatre's Mission is to provide positive learning experiences in theatre arts. Students ages 5-18 are involved in all aspects of production by taking roles of actors, writers, stage managers, technicians and marketers. Each year, MYT does three productions, and holds three sessions of drama classes. Our classes focus on the actor's tools and help students to strengthen various theatrical skills. The students will participate in theater games focusing on building acting skills and teaching improvisation. By writing an original script, students will use story elements to develop a plot and create unique characters. All classes conclude with an original production performed by the students. MYT holds auditions open to any student between the ages of 6 and 18 about eight weeks prior to each performance. Audition information is listed in the Monday Cue Section of the Milwaukee Journal Sentinel and on the MYT webpage: www.MilwaukeeYouthTheatre.org. Auditions for "Beanie and the Bamboozling Book Machine" will be held Tues. and Thurs. Jan. 11 and 13 from 5:30 – 7:30 p.m. at Lincoln Center of the Arts, 820 E. Knapp Street.
MYT serves around 200 students per year with classes and through their participation in shows. We also reach more than 2,000 students each year through performance. Milwaukee Youth Theatre offers scholarships to students to attend classes who could not normally afford to attend. MYT is a non-profit group. If you are interested in donating money to the Scholarship fund or other MYT programs to help promote Youth Development through the Theatre Arts, please call: 414-390-3900 or send a donation to Milwaukee Youth Theatre, P.O. Box 510075, Milwaukee, WI 53203.