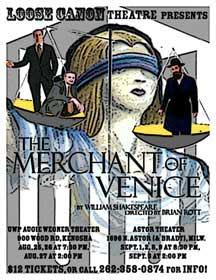 The Loose Canon Theatre Company, a troupe made up mainly of recent Theatre Arts graduates from the University of Wisconsin-Parkside, comes to campus Aug. 25-27 to present Shakespeare's "The Merchant of Venice." Held in the August Wegner Studio Theatre, Loose Canon will present two evening performances and one matinee show. "'Loose Canon' focuses on presenting classical works in a way that's easily accessible and relevant to contemporary audiences," said UW-Parkside graduate Brian James Rott. "I am directing the production and our seven actors will play multiple roles."
Rott, along with fellow UW-Parkside alums Jacquie Beyer and Kyle Tikovitsch, and current student Derek Ewing, helped form the theatre group earlier this summer. They present five performances of the play at Milwaukee's Astor Theatre Sept. 1-9.
The UW-Parkside productions are Friday and Saturday, Aug. 25 and 26 at 7:30 p.m. and Sunday, Aug. 27, at 2 p.m. in the Wegner Theater. Admission won't cost patrons a pound of flesh. Tickets are just $12 for adults and $10 for all students. For more information, call (262) 595-2404.