A Life in Theaters
Special to the Journal Sentinel, Posted: May 23, 2006
Charles Braun spent his life working in Milwaukee's theaters in an age when they were most people's main entertainment destination. By the time he died in 1968, Braun had worked at nearly 30 Wisconsin theaters. In 1905, at age 13, Braun was selling candy at the Bijou Opera House at the corner of N. 2nd St. and W. Wisconsin Ave. Within two years, he had worked his way up to assistant treasurer at the Crystal, a vaudeville theater up the street.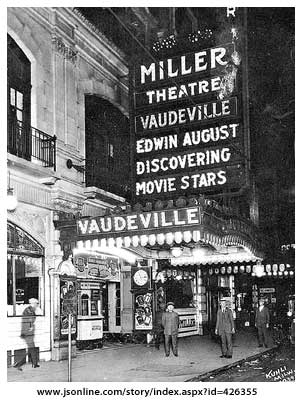 A decade later, Braun attracted the attention of Thomas Saxe, who, with his brother John, ran Saxe Amusement Enterprises, which was on its way to becoming the most powerful theater chain in Milwaukee.
The Saxes hired Braun to manage the Miller Theatre, a property that Saxe Amusement Enterprises operated in conjunction with Miller Brewing Co. just north of Wisconsin Ave. on what is now N. Old World 3rd St.
For the next 12 years, Braun booked hundreds of singers, dancers, comedians and other vaudeville performers for the Miller stage. According to a pocket-size notebook filled with Braun's handwriting – part of the material donated by his granddaughter to the Milwaukee County Historical Society – one of his favorite acts was Ted Healy, who at $8,500 a week was the highest-paid vaudevillian of his time.
In 1922, Healy played the Miller with a young Moses Howard, who would later become Moe of The Three Stooges.
One of Healy's gags that evening got a raucous laugh, according to Braun's notes. "Hecklers in the audience don't bother me. A good smack in the mouth always stops them. Now, if I could only find a way to handle the men."
Braun kept meticulous records of how each performer's act went over with the audience along with some personal observations. One entry next to another comedian's name says, "Drunk. Don't have him back."
In 1932, after a short stint managing the Garfield and Modjeska theaters, Braun left his job with the Saxes to strike out on his own.
He managed theaters in Hartford, Lake Delton, Viroqua, Richland Center and a dozen other Wisconsin communities.
True to his roots, Braun was still putting local performers who could sing and dance onstage in between the motion picture showings at those theaters well into the 1960s.
Entries in the journal from the late 1950s document the cost to run his car around the state for 17 weeks ($249.35) and the revenue from a theater concession stand (15 cents for a bag of popcorn and 10 cents for a 9-ounce cup of soda).
Such tidbits fill in the details of local history. And giving them to the Milwaukee County Historical Society, Sue Braun said, means her grandfather's legacy will be preserved.
"It's best to have his papers and photos in a place where everyone can have access to them," she said.