Indie filmmaker goes inside the walls of area's quirky homes (Published Jan. 3, 2007, 10:38 a.m.)
Regular Week readers may remember the last film created by independent filmmaker Jim Muraco, Born and Bred, featuring dozens of Wisconsinites who made it big including Orson Wells, Steve Miller, Harry Houdini, Ellen Corby, Al Jarreau and Liberace.
Well, Muraco has been busy and has just completed his next film, It's My House.
"It's a documentary on unique and eccentric homes throughout Wisconsin highlighting not just homes, but the stories behind the homeowners," he said.
The idea for the film came while Muraco was watching the news. Photo: The Packer house is the home of Bill Lennon and his color-blind wife.
"I watched a news story on Al Emmons, an artist from Greendale, who had a big blue bird on his chimney," he said. "The neighbors complained and the city ordered him to take it down. I thought, 'It's his house, he should be able to do what he wants with it.'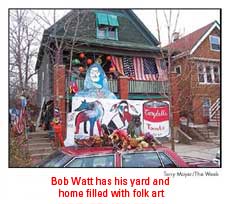 "Then I noticed other homes with unusual artwork outside-lawns with Cadillacs half buried in the ground, a boathouse-and realized how ripe Wisconsin is to have this topic captured on film."
A few of the featured homes are:
N. Eisenberg, who had his French horns stolen off the tree in his front yard. Then music stores donated replacement horns.
Bill Lennon, who painted his home green and gold-a Packer House. His wife is color-blind so she didn't even realize it.
Bob Watt, whose entire lawn and outside of his home is entirely dedicated to folk art.
The witches' house, formerly owned by the late Mary Nohl.
It's My House, a visual/pop/comedy, and the soundtrack and narrators contribute as much to the film as the houses themselves, Muraco says.
There is a variety of music within the body of my film. Most importantly, the theme song, written and performed by "one of the most clever songwriters in the Midwest, Pat McCurdy," he said. Other music includes Pat Nettesheim's masterpiece, "Coven," that will be the theme throughout the witches' house segment, Lovin' Kind, Orphonic Orchestra and special guest Jesse Guten performing "Find My Way Home."
"I found incredible narrators, a mother-daughter team, Barbara Meyer-Spidell (mom) and Lauren Meyer (daughter) that have spiced up the entire film with their chemistry," he said. And Mark Borchardt and Mike Shank of American Movie narrate the witches' house segment.
Two things stand out in Muraco's mind that he discovered while making this film.
"That the homeowners are even more interesting and unique than the homes themselves; and that just because you own a home doesn't necessarily mean you have the right to do what you want with it."
Also see "It's My House" by Jim Muraco