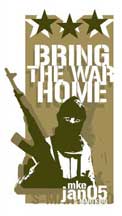 Putting on a play like Bring the War Home from scratch, with no budget, no actors, no set, and no crew, is a daunting task. But on Nov. 3rd when I heard John Kerry concede Ohio without counting all the votes I decided we had to get it together by what would've been his inauguration day. I had thought the outcome of the election wouldn't make a difference to our play; Kerry wasn't going to fix Iraq any time soon and I'd been working intensely on Bring the War Home since August, it was going to happen someday no matter what.
I was wrong. The election turned up all the heat on the project, it meant we had a deadline, it meant this was more important, and it meant a majority of Americans were opposed to what we were about to do. Fortunately for us, it also meant there were a lot of people looking for something to put their angry energy into something big and loud, something like a play about militant activists who go after the American public at large. Bring the War Home is going to be successful because those people volunteered, donated, took interest and helped us.
This is not only a play about what we can and should do about America's current political situation, it is also a testament to what we as Milwaukee artists and community members can create. Let's keep it going. The writing process for our next play is underway now and we're going to do everything we can to gain momentum on the success we've already had.